If LinkedIn and online address books have replaced Rolodex why do paper business cards still exist?
However into technology we are, we've all still returned from networking events with handfuls of business cards and frequently handed out many of our own. There is something about a person or company that is expressed through a high quality printed, soft to touch, credit card size piece of card that the phase 'add me on Facebook', 'follow me on twitter' or 'connect with me on LinkedIn' just doesn't accomplish.
You may indeed return home from a networking event or exhibition and hop online to connect to the people you have just met, however you are still likely to keep that business card to hand or in a safe place.
Mark Applin, founder of Intermedia, a Southampton-based agency, sums it up in one sentence "It is a great conversation starter. Nothing else has yet matched the simplicity of handing out a business card."
Whether your business is big or small, online or offline you would be hard-pressed to find a company that does not provide its staff business cards. There's no need to worry about quantity or cost as Eazy Print provide many options to suit any budget. From low cost business cards for small quantities and short-term use to premium extra thick business cards. We can print as small a run as 50 of one name and still provide a variety of finishes.
With advances in print, excellent paper options and design trends, you can modernise your business cards to reflect your best side and make a great first impression whatever your budget.
So- we've covered why we use these cards? But how do you create a fantastic business card design? And what's currently in vogue for business cards? Keep reading our ultimate guide to business cards to find out.
1) Go thick with quality materials
Advances in printers and paper have allowed our digital machines here at Eazy Print to print on heavyweight card up to 350gsm, allowing us to offer great quality on even the smallest of orders. Want to go thicker?! Our most popular cards are the premium business cards. These are litho printed on substantial heavyweight 400gsm triple coated silk art board which we then matt laminate for additional bulk. Want to go thicker still?!
2) A colour sandwich – add a pop of colour
Our luxury business cards don't just look special – they feel special too! Substantially thicker than standard business cards, and with the option for a coloured centre layer, these cards are more than a business card. They are unique and a statement of quality.
The triple thickness centre layer is available in three colours – red, blue and black. This luxury product is printed in full colour to both sides and supplied in business card boxes with free delivery.
3) I'm online! Use it as a signpost
When considering what information to put on your business card don't feel you have to squish everything on it. Use it to signpost relevant links that are the most important in telling your story. We all have an online presence but don't include everything pick just a few – Facebook, Twitter, YouTube channel, LinkedIn profile.
4) You can reach me here, here, here and here.
Lose the kitchen sink approach. There is no need to include every telephone number you have – fax, mobile, switch board, direct dial, Skype. Include only one or two – a company number and mobile are most common. Then add your email address and a URL to your website where all your other information can be viewed. Also, a company's full address can take up a lot of space on our tiny card, if you want to include it then a city and county is normally all you need. If someone wants to post you something they can always look online for the company's full address.
5) Don't forget the back
Print your business cards double sided. A logo on the front is fine but how do we add interest to our tiny business card? Use the back. Be visual, add an image or design that might help spark a conversation. Express a core value or use brand colours. Be creative!
6) Consider a call to action
Think of your card as a call to action. What would you like the keeper of the card to now do? "Contact me today!", "Download our free app!", "View my showreel!", "Browse our gallery and portfolio", "Tag me on Facebook", "Read my blog" or "Follow us on Twitter."
7) DO NOT use clipart
Do not under any circumstances use clipart. It has its place, but your professional card is not one of them. There are many online photo and image libraries available to us now, so that we can select the most professional image, illustration or logo for our business. Some are subscription based, some have one-off fees and others are simply free to use. Alternatively, use our design team who are happy to create bespoke business card designs.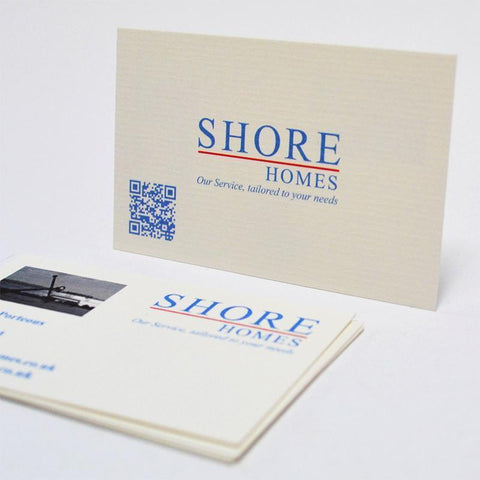 What's hot and what's not in business card design?
Eco-friendly cards 
As the world becomes ever more focused on going green, business cards are increasingly picking up on the trend, with many now made from natural or obviously recycled materials; many businesses add to the effect by using green lettering. A card such as this is a great way to promote a company with a strong environmental strategy.
3D cards
One way to make a business card stand out is to have it stand up. This year we are seeing lots of quirky cards that draw on clever designs to transform them from traditional flat rectangles into shapes often themed to fit in with the companies they represent. This type of card is easier to produce than might be thought; the part that gets tricky is aligning the print effectively.
Fresh shapes 
Another alternative to the traditional rectangle is simply to use a different flat shape. Square business cards are really in this year, sometimes with a photo or logo on one side and contact information on the other. There are also circular cards, which really suit a sixties-style modernist aesthetic and are ideal for creative companies looking for a retro twist.
Fresh materials
If you want to send the message that your business is truly unique, using unusual materials is a great way to go. There are business cards printed on pieces of linen or washed silk, stamped into thin sheets of tin or even embossed on wood. Cards like this are guaranteed to get extra attention and they will certainly help people remember you.
QR coded cards 
Whatever type of card you use, the number one aim has to be to get your information out to prospective customers. QR codes, which we see turning up more and more, are a great way to do this. Similar to barcodes, they are designed to be read by mobile phones and enable the card creator to pack a lot of translatable information into a small space.
What's out
For every exciting new trend that comes along, something has to go. This year we are saying goodbye to cluttered design and the bohemian-style use of multiple fonts. The craze for natural looking materials and textured surfaces means we are also seeing the back of high gloss cards. Neutrals remain popular and strong colours are in, but pastels are definitely out.
A business card that fits these fashions shows that a company is in touch while allowing lots of opportunities for creativity.
All of our business cards include FREE delivery*. Browse our website and see all of our great business card options. With options to suit any budget, order yours from us today!
*at date of publish 12/07/2016