Stand out from the crowd with our exhibition displays and packages.
Our range of quality exhibition stands and displays provide the perfect solution for exhibitions, trade shows, presentations and product launches. Every stand is immediately ready to use and comes with quality printed graphics as standard.
Our range includes pop up stands, traditional podium displays, Pop-Up Counters and the option of the adjustable Teno Stand stand.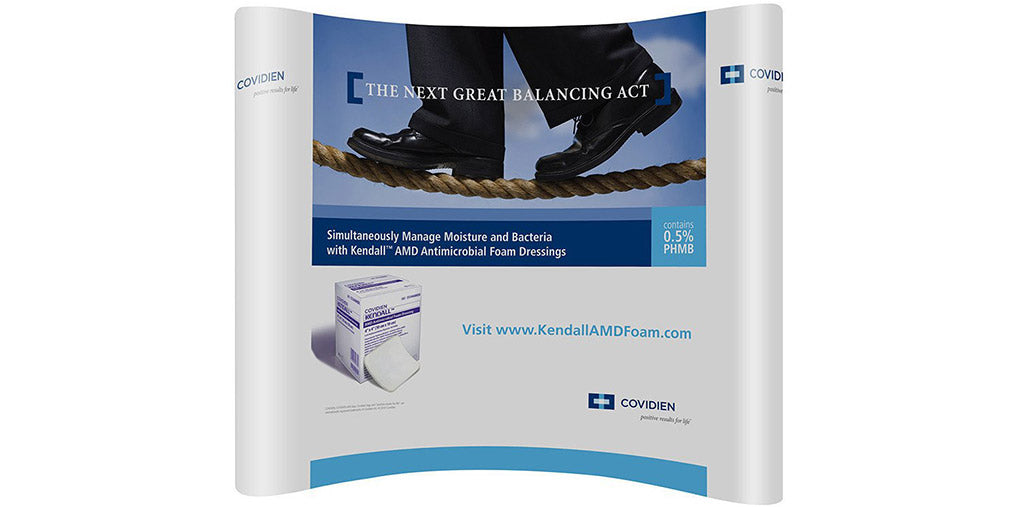 Pop Up
The ultimate for your exhibition display. Pop ups are ready to use, with vibrant full colour graphic panels and easy install pop up stands. They come with a hard carry case, with printed wrap and a wooden panel top. Our pop up stands are available in a range of sizes: 3 x 1, 3 x 2, 3 x 3 and 3 x 4. And styles to suit every space, curved or straight.
To install simply pull up the stand and hang the laminated graphic panels to the frame. The panels can be easily removed and packed away into the hard-wheeled case, ready for display at your next event.
For the extra wow factor and for use in low light exhibition areas, we will also supply your pop up stand with two lightweight spot lights; these are easily attached to the frame of the display.
We have lots of handy downloadable guides to help you design the panels and wrap for your exhibition display, plus an installation guide for your convenience.
Pop Up Packages
Let us assist and guide you in creating your ultimate exhibition display kit!
Our pop-up stand package includes:
3x 3 printed pop-up display with graphics
1x hard-wheeled case with printed graphic panel and wooden top
2x spotlights
Need design help?
We know there may be times that you require a bespoke exhibition display, and we can create a display stand that is individually designed for you. We also provide a professional two-day creative artwork and layout service, which you can add to your purchase when ordering your exhibition display. Browse our templates, read our helpful print guides and please contact us for more information.
Don't forget the smaller items!
Browse our other products to complete the look. Leaflets, business cards, roller banners and much more. We've been delivering fast, efficient and affordable printing for over 10 years and are here to help.
Our friendly team can help with support and advice on all of our products so give us a call today on 02380 700 111.
Purchase your exhibition display today and we will work with you to stand out from the crowd!
Designed, printed and finished under one roof and dispatched directly to you and there are no hidden delivery costs, we offer free delivery on all of our products!