For some of us, choosing the right roller banner for your next advertising or information giving task is the easy part. What could be simpler than sitting at your desk perusing the finer details of each model and matching the appropriate display to catch the attention of visitors to a certain area of your business? It may also be a little tricky to follow the prompts online to make the right selection, specifying the right number and entering the correct contact and payment details. But thanks to the user friendly ordering process you've managed it. Job done! Or is it?
For first time users of the site or the less IT confident ones amongst us, this is a tall challenge. So to take the stress and drama out of what should be a pain free and pleasant process, follow the next step by step guide to uploading your artwork to the Eazy Print website to get your order underway.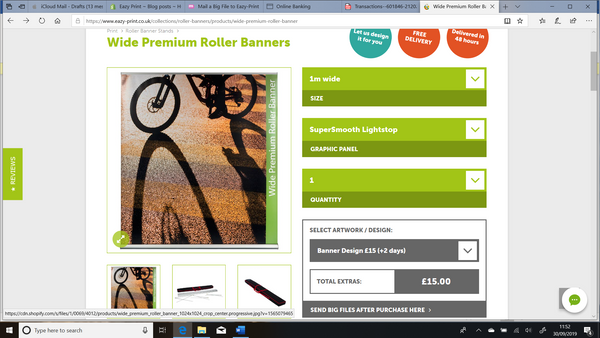 The product selection page allows you to choose the type of roller banner display you need and to specify the details such as the size, material, number required and how you will provide the artwork for the design. So for example, say you wish to purchase a wide roller banner you would click on this product as listed on the page and then complete each information bar in turn. When you come to the Select Artwork/Design section you have three options; Upload Print Ready Artwork, Send Print Ready Artwork Later or Banner Design £15 (+ 2 days). Before you make your choice it's very important to scroll down to the bottom of the page to the Artwork and Design section and read Artwork Guide. This will ensure that you upload the correct size, format and print ready artwork for your banner, saving time and extra work.
Select Upload Print Ready Artwork only if you already have a suitable design stored on your computer or device to transfer straight away, as per the artwork guidelines.  Scroll down to Choose File, click and select your artwork file. Then move on to Add to basket when you are happy with the details you have entered and the artwork you will use.
Send Print Ready Artwork Later allows you to place your order but to upload your artwork at a later time when you are satisfied it will be ready to go to print without amendments. It is worth noting that on receipt of print ready artwork a proof will not be sent to approve or correct before going to print. If you would like reassurance that your design will work out as expected, speak to a team member who will be happy to check your files for you and advise accordingly.
Banner Design gives you the option to have your printed display designed for you by a professional. Just relay your requirements, design ideas and suggestions via phone, email or face to face and a graphic designer will talk you through the process, providing a proof for you to check just before going to print.
Simply uploading files is not the same as placing an order, as this will only be processed once you have completed all required details and payment is received. If you have selected to immediately upload your design or to have it created for you, all that is left for you to do is to complete and move through delivery, billing and payment windows.
To upload artwork to MailBig File ensure you have correctly placed your order and completed the payment process. Then return to the product selection page and click on Send big files after purchase here. You will be taken to the Mail a Big File to Eazy Print screen and an interface to transfer your design files to the studio. Click on + Add Files in the bottom left hand corner to access your files. Select your artwork file, click on open and it will appear in the interface. Only one upload is permitted per order, but you can transfer up to 20 files at once of no more than 4GB per file. If you have ordered, for example, two stands then you need to upload the artwork for both stands together.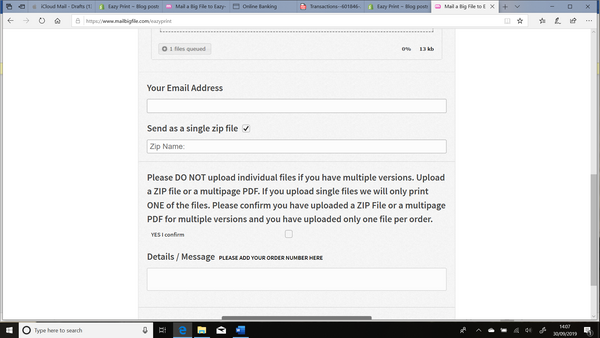 Once you have transferred all the relevant files for your artwork to the Mail Big interface, fill in your email address and give your Zip file a name – usually the order number which you received during payment.
Tick the box to confirm you are only uploading one zip file, add your details and order number in the message box and click send all files. If you are uploading larger files these will take longer so ensure you wait for confirmation the file has been sent before you close down the window, or the upload could fail.
It's simple once you know how!
Should you need any assistance, don't hesitate to get in touch today!