Never been to an exhibition before? It can be a daunting experience, so what should you take with you? How do you deal with enquiries? How do you ensure you come away with more prospective customers, so that you can say your exhibition experience was not a waste of time? We take you through our 3 top tips on how to market your company at your first exhibition.
Three Top Tips – How To Market Your Company At Your First Exhibition: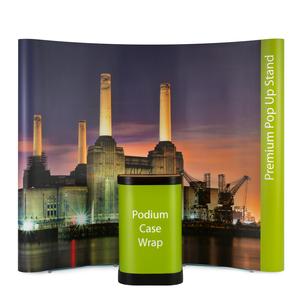 Step 1. Claim the space as your own
The first thing you as an exhibitor need to do is claim the space allotted to you at the venue as your own. It is quite likely that the space you have been given seems relatively small, and you would undoubtedly like more, but you may be surprised by what you can do with this area.
Due to the limited space available to you, it is vital that you do not waste any of it on useless pieces of furniture. It will naturally depend on the products or services that you are exhibiting, but you will probably only require a reasonably large central table or desk to serve as a focal point.
You may not even need this, as the majority of your selling will be achieved by just talking to people. In these cases, you may just need a small standing desk or lectern-like piece. You may also want to provide a few fold-up chairs for your visitors who wish stay for a longer chat.
Step 2: How to utilise your space
Technology is a great way to display what your company offers: no one wants to engage with a company that has out-dated tech. If you have the budget for it, invest in a few tablet computers.
Perhaps the most important part of your exhibition stand will be your signage. There is no point having a stand if you do nothing to make it look like you are exhibiting:
Place a sign on the edge of your display to direct people to you.
Use signage that can serve as a backdrop to your entire stand. It should ideally be placed directly behind and slightly above your focal point, i.e. the table or reception area.
At the very least, you should have a roller banner – and to make it easier, you can always invest in an exhibition package, which will provide you with the essentials.
Step 3: Make it worth the customer's while
Remember to reward people who choose to take interest in your stand with a little free gift. You need not spend a great deal of money on these, and rather than an unnecessary expense, you should consider them as a great way of reinforcing your brand in your potential customers' minds.
For this reason, ensure that all your give-aways bear your company logo. Don't make people have to ask for the freebies, as it is unlikely that you will get many takers otherwise. Instead, place them in a bowl on a table so they can just dip their hands in.
Make your exhibition stand work for you by focussing on attracting visitors to your stand and how to keep them once they are there.