If you are in the early stages of your business and have decided to attend your first trade show, it can be difficult to know how to be noticed.  Let's face it, you will be competing with large scale business, and others who have been exhibiting for years. Check out our handy guide on how to make the most of your trade show booth. Here are some tips to help get you noticed…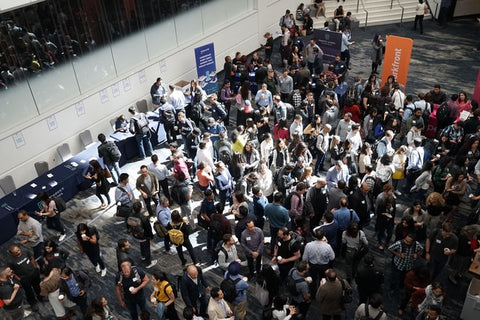 How To Make The Most Of Your Trade Show Booth: A Guide
Get the look right
Your booth will be your shop window, albeit a temporary one. It is vital that your booth does three things: it looks inviting, it displays your brand, and it provides information about the product or service you are promoting.
Make sure that visitors can enter your booth area easily and do not have to manoeuvre around objects just to get in. Attract visitors with eye-catching signage, such as placing a printed roller banner just outside to hook passing traffic. Decorate the rear wall of your booth area with a large printed poster that shouts out the message of your business. 
It's vital that you invest in sturdy, durable and attractive trade show displays. If you aren't supplied with a stall or table, create your own with a pop up stand, complete with printed graphic. 
To ensure that your booth will look good at the show, try to create a mock-up in your shop or home, and ask friends and family for their opinions. If you are hiring people to create your booth for you, give them a full, yet concise brief, so that your objectives are met, but also keep an eye on your budget.
Promotional gifts
People do like being given things for free, but beware of offering promotional gifts as a means of drawing them in. Unless the free gift has a direct relation to what it is you are selling, they will most probably be a waste of money and end up being discarded on the floor of the trade show. If you do hand out promotional gifts, such as pens or coasters, ensure that they bear your brand image, i.e. your company logo and basic contact information.
Talk to the event organiser
The position of your booth is a very important factor in determining its overall success. If you are tucked away in a poorly visited corner of an exhibition hall, the chances are that you will not have a good trade show. Plan ahead and talk to the event organiser about your business. In this way you may be able to negotiate a prime location on the floor.
Your team
Finally, make sure you have the right people around you. Many trade booths will have someone at the entrance enticing people to come in, so this person needs to be prepared to make themselves seen – not a job for someone who is shy. If, however, you don't have a large team, just make sure that the members you do have appear engaged and approachable at all times. There is nothing worse than sales people who look as if they would rather be somewhere else.
Once you have done all of the above, remember to tell people that you will be exhibiting at such and such a trade event. Do this by sending invites to your existing customers, and making an announcement on your website and blog. A trade show booth is a big event – be proud of it.
So there you are : how to make the most of your trade show booth! Should you need any assistance creating your perfect trade show products, don't hesitate to get in touch with our friendly team today.