Outdoor banners are a versatile and effective form of outdoor advertising. To maximize their impact it is important that your advertising banner is hung correctly. Follow our guide on how to hang an outdoor banner for a perfect display…
How to hang an outdoor banner: a guide 
Firstly, ensure your PVC banner comes with a hem and eyelets (all our outdoor PVC and mesh banner come with these). A hem provides a double thickness around the edges, providing strength for the eyelets and prevents fraying and curling.
Hanging an outdoor banner to a fence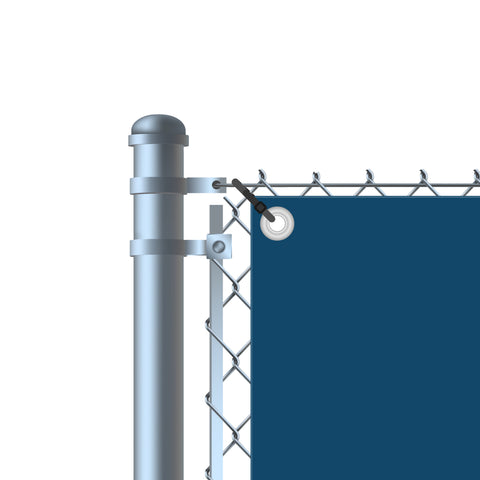 The cheapest option is to buy cable ties and attach the PVC banner to the fence through each eyelet. Although this will work, cable ties are inflexible and in periods of high winds can sometimes rip the eyelet out of the banner.
A better solution may be to purchase bungee ties. These are specially designed PVC banner fixings made from flexible elasticated material, and allow the banner some movement. In areas with high winds, it is advisable to order a mesh PVC banner. The mesh allows wind to pass through the banner preventing it from being ripped off its ties.
Hanging an outdoor banner to a wall
For a semi-permanent wall fixing, measure the distance between the eyelets, drill holes in the wall and screw the banner onto the wall using a washer large enough to cover the hole in the eyelet.
Another option is to use hook screws and attach the banner to the hook using bungee ties. This enables you to replace your PVC banner without the need to screw it in each time.
Hanging an outdoor banner between two poles
Thread a length of bungee cord or rope through the eyelets on the top and bottom of the banner – this provides a support for the length of banner. Attach the ends of the rope to the pole. The banner should now be hanging from ropes.
To keep the banner taut attach a cable tie or bungee tie to each of the 4 corner eyelets and secure to the poles. As mentioned above in areas of high wind consider ordering a mesh banner instead of standard PVC to allow the wind to pass through the banner. 
How to hang an outdoor banner using a banner frame
Banner frames are an excellent option when there is nothing to attach a PVC banner to. These metal frames are supplied as a kit and are free-standing.
All of our printed banners are supplied with hems and eyelets. We also supply specifically made bungee fixings and we can provide general advice on how to hang your cheap PVC banner.
Written by Joanne Serellis