On demand printing offers a wide range of marketing materials to meet your company's unique needs. Creating your own hard copy materials is easier than you think with Eazy Print's fast, high quality, next day service.
space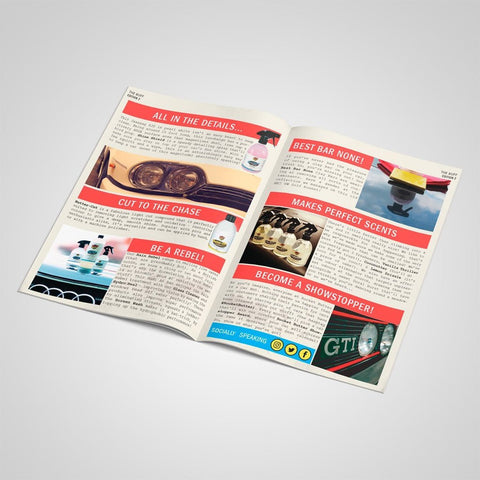 Custom brochures
Perhaps you have a charming bed and breakfast? An attractive brochure placed at key locations or mailed could lead to more booked rooms. Here at Easy Print, we offer stunning brochure printing in several sizes, including a landscape option for information that needs to be displayed boldly. On demand printing allows you to create and receive your brochures with a speedy turnaround!
Traditional banners
Many people in the business world will find themselves attending trade shows to attract customers or job fairs to find talented staff. A custom banner grabs a potential client or employee's attention from a distance, helping your company get the attention and talent it deserves. On demand printing means you can create whatever design you like, and have it delivered with a quick turnaround time.
Folders
Do you need to bring a business proposal or project plan together? Would you like to produce a prospectus for potential investors? Custom printed folders and inserts can make your great plan or idea stand out. A first impression packs a big punch in the corporate world, so show your potential clients and investors that you are organised and professional.
Free templates
Easy Print is dedicated to doing whatever it can to help you get your marketing materials to the printing stage. Our free templates can help you get started with the planning of your hard copy-based marketing strategy and materials today. These templates are also a great way to encourage employees to contribute to designs. This can help build teamwork skills and a sense of camaraderie at your company.
Labels
Label printing at your office can cost more time and money than you might think. Leave the work to us and enjoy more time to dedicate to your clients and employees. Sharp colours and clear prints make our labels among the best in the printing industry. Labels can also be used to keep your office organised.
Business cards
In a day and age when colleagues communicate more and more by electronic means, the importance of a good business card is often overlooked. A potential client does not necessarily want to write down your information. If you just speak in passing they are likely to forget to contact you. Giving them a business card makes a lasting impression and is a good reminder for them to give you a call later. Business cards are economical and can easily pay for themselves with the gain of even one new customer.
Heavy weight outdoor banners
Our highest quality banner is UV resistant so it stays bright and sharp looking for longer than lower quality banners. The banners are available in a wide variety of sizes depending upon your space and how much impact you want to make. Our largest size is an impressive 8ft x 16ft. The smallest size available is 2ft x 4ft and is great for booths or anywhere where a subtler message is needed. Outdoor banners are an economical solution when compared to other signs of similar size.
Should you have any questions about on demand printing and how it can help you market your business, don't hesitate to get in touch with our friendly team today.