Roller banners are certainly incredibly popular. And it's no wonder! Roller banners are cost-effective, reusable, sturdy and eye-catching – everything you need to promote your product or event! They are also very easy to assemble and disassemble. But how do you set up a roller banner stand? We're here to help! Follow our step by step guide below for ease of assembly.
How do you set up a roller banner: a guide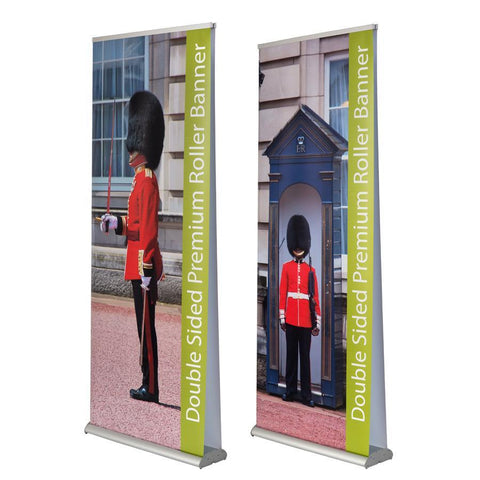 Step 1 – Location, location, location
Begin by locating the best place to display your roller banner. Remember that you want as many people as possible to see your product, service or event, so ensure it is in a place with high foot traffic.
However, you also have to make sure that the optimum position for visibility is also safe. Remove any trip hazards or debris and ensure that the surface is flat and even.
If you've designed a double-sided roller banner for optimum viewing, ensure you are taking advantage of this and that one side isn't facing a wall!
Step 2 – Extract the components
At Eazy Print, our roller banners come with a handy padded carry case to ensure ease of transit. It also makes sure you don't lose any of the vital parts!
Keep the carry case somewhere safe when your roller banner is on display – most of our models can be used time and time again when stored correctly.
Step 3 – Stabilise the feet!
Ensure any feet that are under the stand are swung into place – this will keep your roller banner stable! Our premium models have sturdy, heavy base to ensure there's absolutely no movement, so feel free to ignore this step if you've purchased one of our premium roller banners.
Make sure the surface is even, so the feet are taking equal weight.
Step 4: Erect the banner
Attach the pole into the base slot and make sure it is safely secured. Then, proceeding very gently, pull the banner graphic from the base and pull upwards in a careful, slow, steady motion. It's essential that you do not pull too quickly or you could damage the graphic.
Connect your graphic to the pole and voila! You have a fantastic, custom printed roller banner ready to wow your visitors!
How to take down a roller banner
When taking down your roller banner, make sure you have a colleague to assist you, especially if the graphic is taller than you. Have your helper steady the base while you unhook the custom printed roller banner graphic from the top of the pole. Gently allow the graphic to roll back into the base, remove the pole, swing the feet in and there you have it! A swift, easy disassembly.
So there you have it- a guide answering the burning question: how do you set up a roller banner? Should you have any questions or need any assistance, don't hesitate to get in touch with our friendly team today!