When designing your artwork for a PVC Banner – please remember to allow for hemming and eyelets.
Standard turns for hems are generally between 50-70mm, depending on the size of the banner, but most of the time it will be around 50mm.
Eyelets measure 25mm in diameter, and they have an 11mm diameter for the hole.
On a standard size banner, like 2ft x 6ft for example, we would put one in each corner and one in the middle of the long edge along the top and bottom.  For wider banners, they may require more eyelets across the top and bottom.  This is all done by hand / eye judgement.
Do: leave enough space at the edge of your banner to allow for eyelets if you require them.
Don't: put text or telephone numbers right at the edge of the banner artwork.
If you don't require eyelets, please be sure to let us know.
The images below are for reference and general guidance only, if you have specific requirements, please get in touch.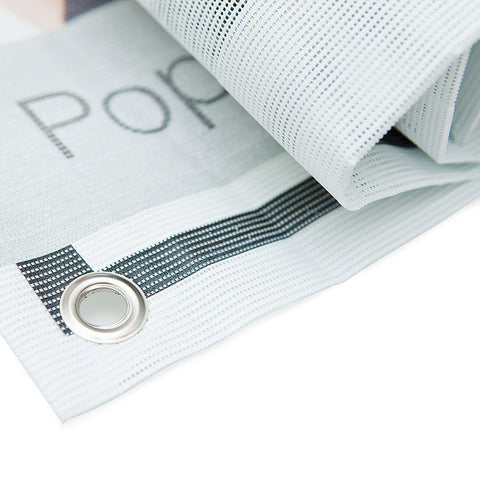 Here's what to avoid:
If you keep text clear of the dark blue area as shown below, you should avoid troublesome nasties like the example above.
Should you need any further assistance, don't hesitate to
get in touch
with our friendly team today. 
Written by Joanne Serellis