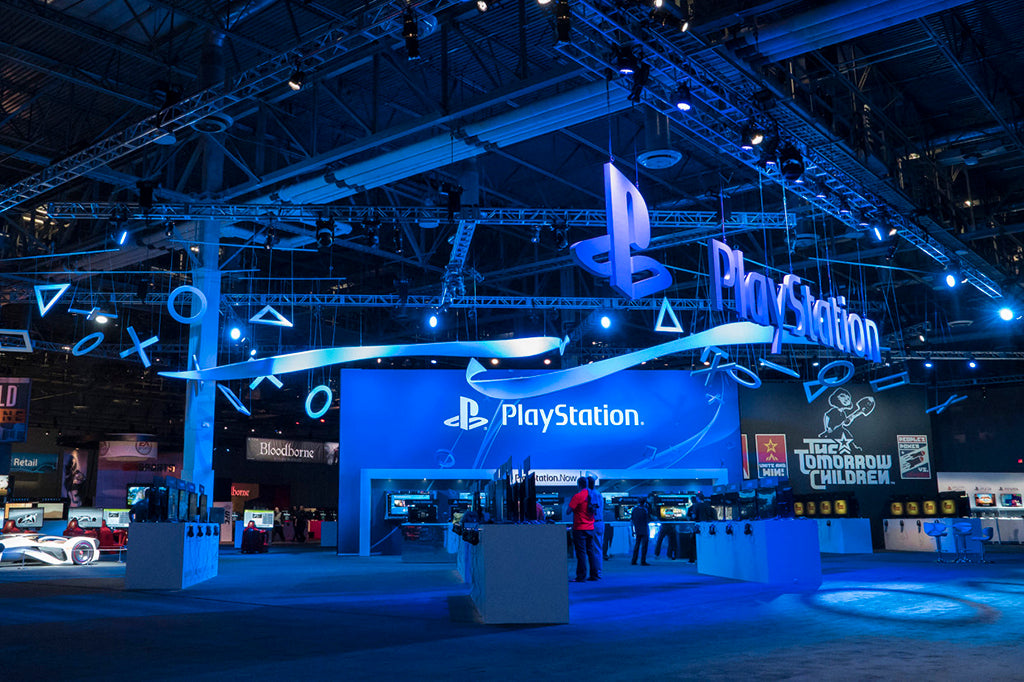 Exhibitions, events and trade shows give companies a great opportunity to present their brand, services and products to their targeted audience. Whether you are a small business or a large corporate, you have to showcase your offering and meet potential customers face-to-face. It's a powerful opportunity to build your brand and reputation. Make sure you make a great first impression and long lasting impact, by being prepared and taking a little time to plan your showcase.
When doing so:
Think about your budget
Consider the longevity of your stand
Do your research
Plan your design
Think about your budget
What will it cost you to attend the event and what can you afford to spend on a stand? Venue booking fees plus any additional costs for staffing, electricity and your stand design and creation.
Consider hire costs for any additional equipment like large screens, audio equipment, PA systems and lighting.
Also consider logistics and speed of setup. Is your stand light weight and portable enough that you could set it up alone? Do you require support from a specialist? Many event companies can assist you by transporting your stand to the venue, installing it on site and de-rigging after the event. They may even store it for you on your behalf.
Consider the longevity of your stand
Additional to budget considerations, is durability important to you? Is the stand for a single use meaning you require a lower cost option such as a roller banner and/or pop-up stands. Alternatively you may be looking for a stand to use repeatedly, for a longer period of time. You may wish for a 'one size fits all' solution, if so consider one of our exhibition packages. Our kit comes in cases for transporting, protecting and storage use.
Do your research
The first way to draw attention and attract potential customers and clients is with an eye catching exhibition stand. Think about what could make your display stand out from your competitors. Whether you are seeking some inspiration, or just don't know where to start, Eazy Print is here to help with our top tips.
When you are considering your stand, take inspiration from stands you see at events you attend.
Ask yourself these questions:
What caught my eye?
Why did the branding stand out?
What made the stand approachable?
Did I find all of the information I needed? How was it displayed?
Plan your design
Once you have an idea of budget and longevity requirements, and what designs appeal to you, it's time to design your floor plan and your printed collateral.
Small can still be spacious.
Consider your floor space, checking that you have space for all of the elements you would like to incorporate.
Think about how approachable your stand is. To remain open and inviting, avoid using too many banners or stands that could cause obstructions. If you are asking people to queue to make a purchase, avoid blocking walk ways or other exhibitors stands.
Consider where your electricity points will be and what hire items you will need space for.
Will you need some storage to keep staff member's personal items out of sight?
We have a solution!
A hard top and printed wrap can be added to our hard cases, this creates a desk where personal items can be placed inside and out of sight for safe keeping.
Once you have designed your floor plan, be sure to check if there is enough free movement around your stand.
Can a wheelchair or pushchair easily move around your stand?
How many people can be in one area at a time?
Do you have the best layout to showcase your products? A great demonstration area is a key consideration in order to showcase products and services, allowing the customer to try before they buy.
Consider content
Other than your logo and contact information, consider what content you want to present and what takes priority.
What information would you like to share or highlight on the stand's graphic panels? Avoid dates or other items that might limit the stand's usable life. Consider what information should be at eye level.
When it comes to your branding is the overall design in line with your brand guidelines? Our design team can help with that.
Be creative
T-Mobile stand (source)
Add an element of fun, to appeal to visitors and make them feel happy!
In our experience phone providers often have the most creative and eye catching stands at exhibits. We think this is because of their established branding and marketing across high streets and shopping centres, coupled with their inspiring advertising campaigns. As an example, the T-Mobile stand above has various strong elements that gives it a place in our top picks list. Firstly, it is well laid out and secondly it makes us feel happy!
The tree design offers a combination of bold colours, great lighting and a strong layout, all of which provoke a feeling of happiness. It also has a great floor plan 'flow'; allowing for a moving flow of people to walk around the stand, and for staff members to interact with visitors quickly and effectively. We imagine they made some good phone sales under this creative stand!
Be seen from afar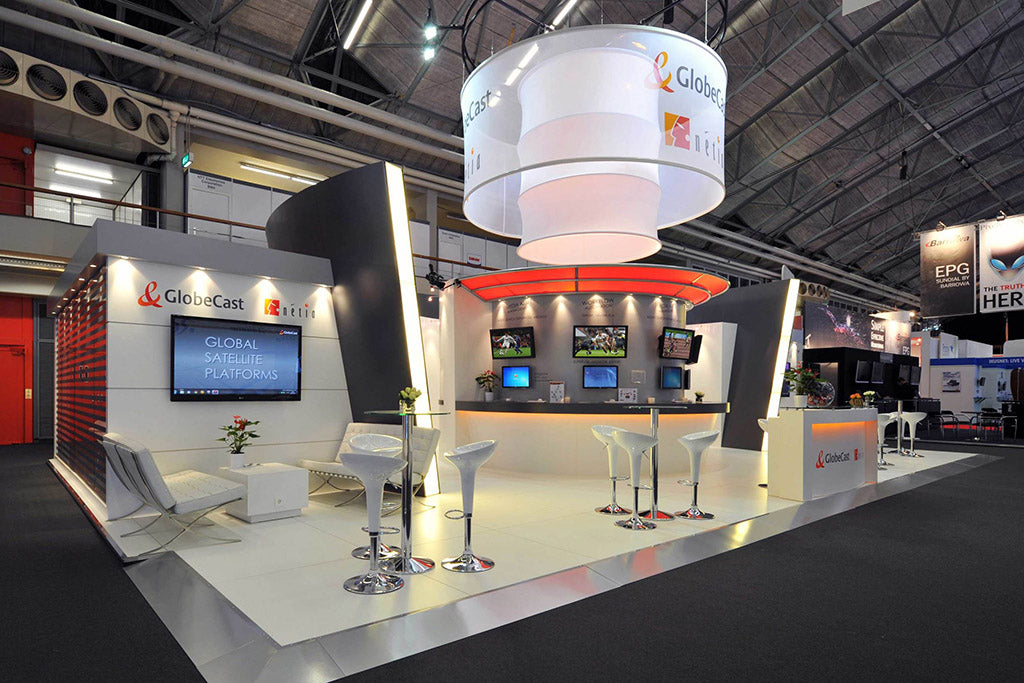 GlobeCast stand (source)
Capturing a potential client or customer's attention will give you a real advantage. The GlobeCast stand above quickly draws your eye to their logo, making them easy to spot in a busy space.
Dividing your available space into sections can be very effective. GlobeCast have sections that allow visitors to sit down for a friendly one-to-one chat. Additionally, screens in the middle display information about their services, without the need for staff interaction.
Light it up
Show off your company logo by lighting it up or projecting it onto a backing. Whether your stand is large or compact, modern lighting designs offer a range of options; from full framework rigs, backlit displays and portable battery operated up-lights. All our roller banners and pop-up stands come with spot lights to make sure your content is readable, even in exhibit halls with low light.