With so many marketing solutions, why use A-Boards? Well, anything you can do to give your business an edge on the competition can make a big difference in your profits. A-boards are a great way to draw in customers from the street at an economical cost.
A sign hanging above your shop is great but it can be easily overlooked by those just passing by. Alternatively, an A board commands attention as it takes up space on the pavement.
Here are some of the advertising advantages A-boards can offer your business…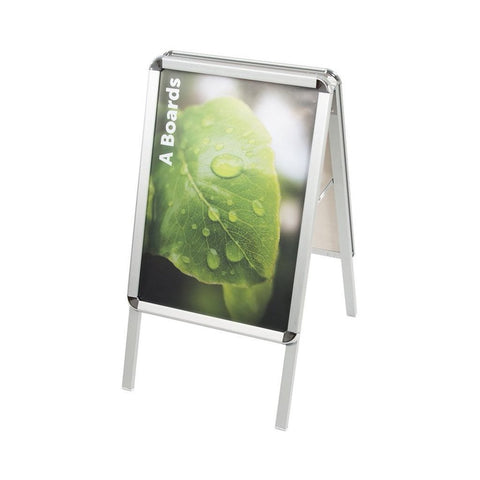 Why Use A-Boards?
Here's a few of the fantastic uses for A Boards in a business setting…
A-Boards For Special Sales
Many different situations might arise at a business where creative temporary signage is needed. A sale is more successful if more potential customers are aware of it. Having signs on the pavement outside your shop can result in customers having the urge to buy right then and there.
Events
A well-organized event often means having the right signs for the job. A-boards can be set up almost anywhere. This versatility can be very helpful and ensure that you can get the most use out of your sign. A-boards can be used to point quests in the right direction or just get a message out there. The possibilities are limitless! A-boards can make elegant signage for weddings as well.
A-Board Menus
The hospitality business is highly competitive. This can put a lot of pressure on restaurants, pubs, and clubs, to stand apart from the competition. Food and drink specials can help attract a broader customer demographic. A-boards can be placed near the entrance of a restaurant or pub so that those walking down the street can see what great specials are being offered or even the menu for that time of the day.
Trade Shows and Exhibitions A-Boards
If you have ever been tucked away at an undesirable booth location at a trade show or exhibition, then you know how much harder it can make it for people to find you. An A-board can help point them in the right direction or just announce your presence at the show. Eazy Print offers two sizes of A-board to meet your needs. Don't let a poor location get in the way of your business success.
Covid signage
In the current climate, using an A Board to promote social distancing, mask wearing or new opening times can be an easy solution. With their changeable posters, you can keep up with the new government guidelines as they happen.
Why Use A-Boards? They're economical, eye-catching and enduring!
When you purchase an A-Board from Eazy Print, you get a stainless steel metal frame with two outdoor posters printed with your own design. If you don't have a design, Eazy Print can help you design a great poster for a very small fee. When you want to change the posters on your frame, we can print other designs for you with a fast delivery time.
We also offer FREE delivery with this product, helping to keep your costs down!
Many of our customers purchase several A-boards, so that they have many flexible sign options. If you plan your marketing well ahead of time, you can have your outdoor posters printed so that you or your employees can easily change your A-board posters, as and when new events or promotions occur.
Our A boards feature protective PVC coating over a strong, galvanised steel backing. As such, their sturdy build and design will withstand the weather, so they can provide many years of great advertising for your business.
Contact us today to get started with A-boards that are unique to you and your brand.