The good old days of dining out with friends and relatives may be gone for the moment, but not forgotten. Despite the hard hitting impact of the current health crisis on hospitality, there will undoubtedly be a welcomed resurgence, albeit altered. Restaurants, cafes, fast food outlets and bars may have to adapt their businesses to accommodate government guidelines protecting customers and staff. The old methods of preparing and serving meals will be put on hold. 
It is as yet unclear what form these changes may take, but the focus is likely to be on the bottom line; keeping costs down and the menu simple. Might this be the time for eating establishments to re-evaluate the key elements of their service to customers? One area might be the way in which they display their meal options. Consider for instance the value of single use menus…
What's on the menu?
When we walk into a restaurant and are ushered to our table, if we are particularly hungry the first thing we all reach for is the menu. This list informing us of the choice of plates available and their contents is one of the most important 'tools' for any eating establishment. Not only does it contain details of what we're about to eat but it also indicates, by it's style and content, perceived marketplace positioning; whether that's fine dining, fast food or informal cuisine. Menus can say a lot about their business and often dictate what we can expect in terms of food quality and pricing.
For example, A la carte menus are usually comprehensive, giving the customer a large choice of meal components which they can select to make up their dish of  choice. Elements of the meal are priced individually. 
More often than not these days, menus are changed regularly, sometimes daily (menu du jour) or are repeated on a cycle according to the days of the week or to what seasonal ingredients are available. Remaining flexible to the requirements of customers whilst sourcing ingredients locally has contributed to the complexed way menus are put together and altered frequently.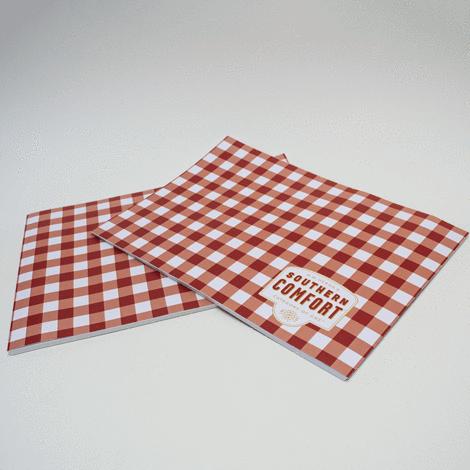 A brief history of menus
Menus as lists of prepared foods have been discovered way back to the Song dynasty era in China. Merchants offered a variation in Chinese cuisine from different regions as a list to busy customers. The earliest European menus date back to the late 1700s when King Louis XV of France held intimate informal suppers for around 30 guests and the single cards itemising four courses were placed on the table. It wasn't until the latter half of the 18th century that the use of menus spread to restaurants and places to eat.
Up until the mid 20th century menus were printed on offset presses which meant print runs were only cost effective in excess of 600 sheets. This requirement set the tone for the more comprehensive catalogue type of menu which remained in use for longer periods of time. 
Shorter print runs were achieved during the 1990s with the advent of digital presses providing restaurants with greater flexibility in both the number of dishes they could offer and how often the menu was changed.
The value of single use menus
Single use menus are simple to design, print and use. This enables eating establishments to adapt easily to customer demand, seasonal ingredients and special holiday celebration meals which necessitate alteration to the choices on offer.
Rather than being laden with the rigmarole of changing detailed, expensive menus, if asparagus is in season for example, the restaurant can come up with dishes to incorporate this, rejig the wording of the menu and print it out within a couple of days. Equally if customers begin to demand a certain style of eating, a new menu can reflect this with relatively little fuss. 
So why are they so easy to use?
Design-wise single use menus are simple to put together as all they require is a heading and three or four sub-headings to show what's on offer for each course. Basically just a few paragraphs of text once you've decided what to include.

For a

basic menu design

 

your text can be emailed or phoned through to a printer where they will set it up ready for print. If you require a more elaborate design they often have inhouse

design teams

to do that for you.

There are many varieties of sizes and finishes, including folding and laminating to suit all budgets.

The menus can be used just the once and then discarded afterwards or kept for a period of time to be used again at a later date. The weight of the paper will decide if this is possible, as the more light weight the paper, the lower the gsm (grams per square metre) the more likely the paper is to tear or crease. If you need your menu to last a little longer laminating the sheets adds protection or some restaurants clip their menu sheets onto a wooden board to keep them looking tidy. 
Some single use menus are multi purpose. Children's menus can be printed on colouring activities for them to do whilst waiting for their meals. Also some eateries have used the menus as disposable placemats and those also offering a take away service use the menus as flyers to advertise this.
You can print as many as you need as quickly as you need them thanks to the modern digital printers which operate continually. So if an ingredient is suddenly unavailable or Chef decides to make use of a surplus of food items the menus can be changed ready for the next day's opening.
Design choices for single use menus
Single use menus come in a variety of styles, layouts and sizes and are so reasonably priced the hardest decision to make will be which one to choose. Have a think about which format of single use menu would work best for your business in terms of marketing and budget:
Format
Paper weight
Paper size
Printed sides
Flat sheet
130/170/300gsm
A7/A6/A5/A4/A3
Single or double
Folded sheets
130/170/300gsm
A5/A4/A3
Single or double

(matt or gloss)

300gsm

A6  (card)

A5 (art paper)

A4 (heavy weight)

Single or double
Print runs on all flyers and leaflets start at 100 sheets so it may be more cost effective to have a number of menu layouts printed in one go and then rotate these as they are required.
If you need any help to design and print your single use menus Eazy Print are printing experts with many years of experience in printed products and are only a call or 'chat' away!
Don't forget to recycle your paper
We can all play our part in recycling the paper we use in order to save energy, water and landfill space. This in turn reduces greenhouse gas emissions and the recycled fibre that remains is a cost saving resource for making new paper products. How can businesses save paper?
Wherever possible print on both sides
Become more accurate in estimating printing requirements
Always proof read and preview before print
Re-use scrap paper
Communicate via emails
Always recycle