Taking part in an exhibition or trade show allows your brand to be seen by thousands of potential customers. To stand out from your competition and gain the largest audience it is essential to attract the attention of your target customers. That's why roller banners are made for exhibitions!
When used effectively, roller banners are a useful tool in helping achieve this aim. An effective Roller Banner stand should have the following:
Roller Banners – Made for Exhibitions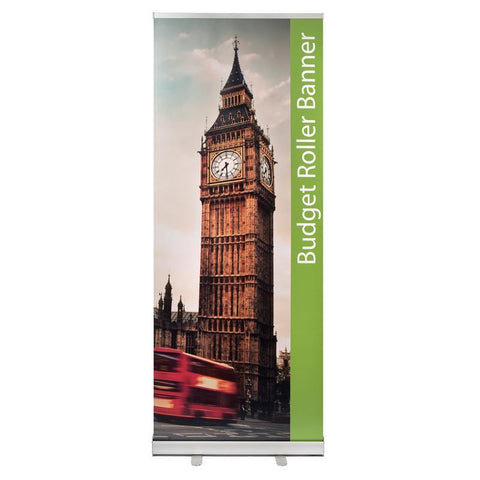 Whether you're attending a one-off exhibition or travelling around a series of trade shows, you want your stand to be visually appealing, eye-catching and easy to assemble. This is why roll up banners are such a popular choice. They are fully portable and light so you can easily transport them around, fit them into a car or take them onto public transport, and you only need one person to carry them and install them unlike some cumbersome display boards.
Being an affordable option you may have the impression that roll up banners are flimsy and hot very durable, but this is simply not the case. As with any kind of printing they do need to be handled carefully, so do be gentle when assembling and disassembling the banner, and ensure you have everything lined up properly so that the roll up banner stand is sitting correctly.
Of course there is a more expensive option for a higher quality stand that should last for years, and these are great if you want to stick with the same design and message, but if you have designed your banner for a one-off exhibition and know you're not going to need it repeatedly there's no point in spending out for anything other than an inexpensive banner stand!
Roller banners – essential aspects
Graphics
The graphics used on the banner should reflect your business purpose. The graphics should be well designed, unique to your business and stand out against your competition. A banner is there to attract peoples attention so keep the graphics free of large areas of text, use easy to read short punchy strap lines. Pictures tell a thousand words – so use images and illustrations, which tell the story of your business.
Size
Roller banners are available in a range of sizes from 600mm wide to over 2m wide. Most exhibition pull up banners are 2m high, although A4 and A3 desktop stands are also available. Use a size appropriate for the space you have available. Sometimes using two or three 800mm wide roller banners scattered around the stand is more effective than one large 2m stand. This said a 2m wide roller banner is really effective in grabbing peoples attention and outdoing your competitors stands.
Quality
Roll up banners are available in a range of qualities, from low cost budget stands to higher end quality bases. Regardless of the type chosen any stand you buy must stand straight and stable and the printed graphics must be printed to the highest quality.
Choosing a reputable supplier will help avoid buying a cheap roller banner stand which is not fit for purpose. The main difference in quality between stand models is the base roller mechanism, some have two swing out feet, some are a one piece tearshape stand, and some cheap and nasty stands only have one swing out foot. As with most things choose a the best model your budget will allow.
Double sided
Double sided roller banners allow your message to be viewed from both sides. This is really effective when placing a stand on the side of a walkway.
Roll up banner stands and carry cases 
When comparing roll up banner suppliers, check that the costing does in fact include the roll up stand and some suppliers will also include a carry case in the price. This can really add to the value of your banner printing as carry cases can be expensive and should be considered an essential for keeping your roll up banner in the best condition.
Roller banners are a cost effective form of advertising, with prices starting from £50 making an effective exhibition stand does not need to be expensive.
Eazy Print offer a range of quality roller banner stands. View our full range online today.