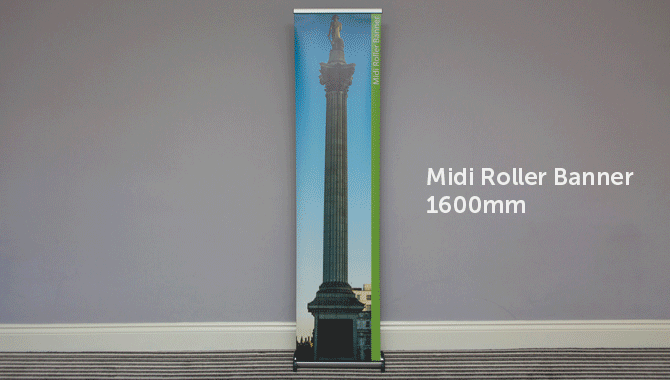 At a narrow 400mm wide, with four height options available, our Midi Roller Banner is a versatile stand with a classy impact.
Pull Pull Pull… and Pull – a wide range of heights!
The Midi Roller Banner is a versatile little stand that can be used at a range of heights. Giving it the ability to be used either as a desktop display set at either 400mm or 800mm. Extend it even further with a little pull to create a floor display – a 1,200mm pull up or 1,600mm roller banner. Eazy Print Midi Roller Banner, are surely the easiest way to invest in signage that you can use again and again.
Whether you are attending a trade show, table top sell, pop up store or need welcome signage, the Midi stand will give your brand a professional look and feel.
Watch the animation to see it.
The printed graphic panel is printed on SuperSmooth material with a grey back to stop light.
Banners are trimmed and fixed to the hardware, ready for you to simply roll up and use.
Choice of heights – 400mm, 800mm 1,200mm or 1600mm
Low prices starting at £24 plus VAT. This Midi's are incredible value.

Use our handy artwork template

Design service available from £15 plus VAT
Ordering the 1600mm option will give the most versality in the height of the stand. It comes supplied with four joinable poles. Use one pole section for 400mm, two sections for 800mm, three sections for 1200mm and all four pole sections to create 1600mm.
Order today! Available with a standard 48-hour turnaround or a fast express 24-hour turnaround. Click here for more information on turnaround times.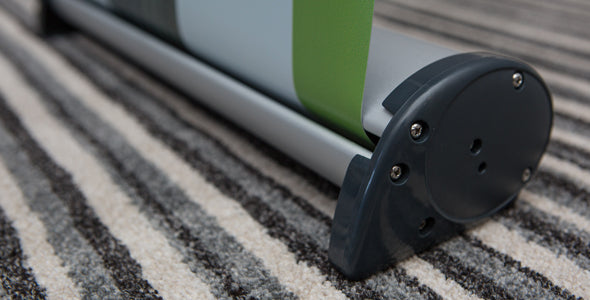 Don't take our word for it. See what our customers say about this 5 star reviewed product:
Helen – "Really portable banner in neat bag. Great to carry to events as part of counter top display. Easy to put up."
Kate – "Brilliant product – very stable, great quality, will be easy to transport and display at events. Better than Vistaprint by far!"
Jacey – "I ordered three of these for a trade show I had to travel to by train. They fitted neatly into a small suitcase and were light enough for me to carry. The product is exactly as described. The printing is clear and the colour quality good. Even with my own artwork, these look classy. I will be buying again for future shows."
The Eazy Team are happy to help with advice on the planning and organising of your promotional event.
Call our offices direct on 02380 700 111 for help in choosing the right gear for your business and budget.