We often rely on packaging and labelling for our first impression of a product or service. Why? Well, labels are a great way to promote your business with an attractive design statement. Here are just a few of the ways that custom label printing can help your business…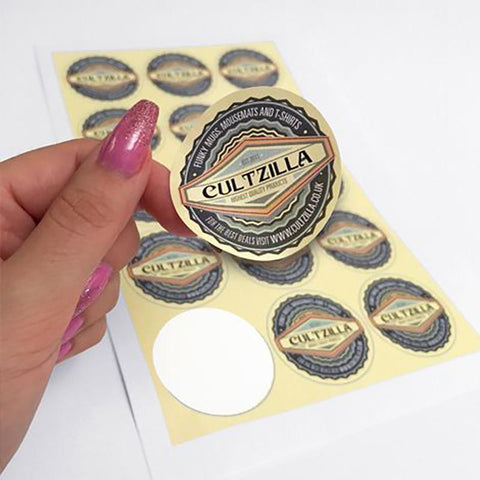 Brochures or pamphlets
Maybe you have a few older brochures or fliers around that you want to use but would like to be more up to date because you are offering a special sale? A custom label can be printed and easily applied. This can help you to make the best use of advertising materials.
Save labour and money
Printing your own labels is time-consuming and can be frustrating. You might also need to spend more on ink, toner, and keeping a printer maintained. The type of printer that is required for high quality label printing is much more expensive than the cost of a basic office printer. At Eazy Print we can do all of this for you and are able to pass on the savings that we achieve from the bulk purchases of supplies, to you and your business. We can also help to design your labels at a very low cost.
A quick, yet professional look
Since labels can be applied to a wide variety of surfaces, it is simple to make even a plain box look sleek and attractive. This means that last minute packaging or promotional materials are easy to put together. Maybe you need ten folders for hand-outs at a company meeting? A custom label can make it easy to give a plain folder a professional look every time. This will show customers, potential customers, employees and investors that you have put time and energy into your presentation. When your audience thinks you care, they are more likely to trust you and your company.
Mailing labels for convenience
Address labels are great to have to hand if you run out of printed envelopes or if you don't post a large volume of letters but want a professional look when you do. Pre-printed labels save time when you have to get packages and other mail to your customers and suppliers, promptly.
Get organised
Labels can help you to organise files, office supplies and more. No more having to open a storage bin in order to find out what is in it! Labels are very affordable so printing a variety of them is a realistic option. A more organised business leads to greater productivity and quality of work.
Fast turnaround time and great support
Eazy Print offers a three day turnaround time on all label orders, as well as free delivery. If you need to receive your order faster than that, you can contact our dedicated printing experts at any time. We have many express options available for your last minute printing needs – and all at our competitive prices. Contact us to find out more. 
Alternatively, if you're specifically on the hunt for bottle labels, take a look at How To Print Bottle Labels.