Whether you have a shop front, a trade stand, pop up shop or at a one day event, you need to check your kerb appeal.
Kerb Appeal:
Noun
The attractiveness of a property and its surroundings when viewed from the street.
Is your signage up to scratch and appealing to your audience? Does your signage draw customers in? Does it attract new business? If the answer to one or more of these questions is 'no' then Eazy Print is here to help.
Not only can we take care of all your printing and signage needs, we also have a fantastic professional design service from as little as £15!
Paving the way!
Our pavement signs (hoardings are the technical term) are a must. While shoppers are out and about this summer, stop them in their stride with our A Boards or Forecourt Sign. Both available to be dispatched the next working day with FREE delivery.
Anything you can do to give your business an edge on the competition can make a big difference in your profits. A-boards are a great way to draw in customers from the street at an economical cost. A sign hanging above your shop is great but it can be easily overlooked by those just passing by.
If you're a restaurant, add your menu to attract passing trade. Or signpost your location if your business is tucked out of the way.
Available in two sizes A2 and A1
Free standing
Supplied with two full colour posters
Protective PVC coating
Priced from as little as £72 plus VAT.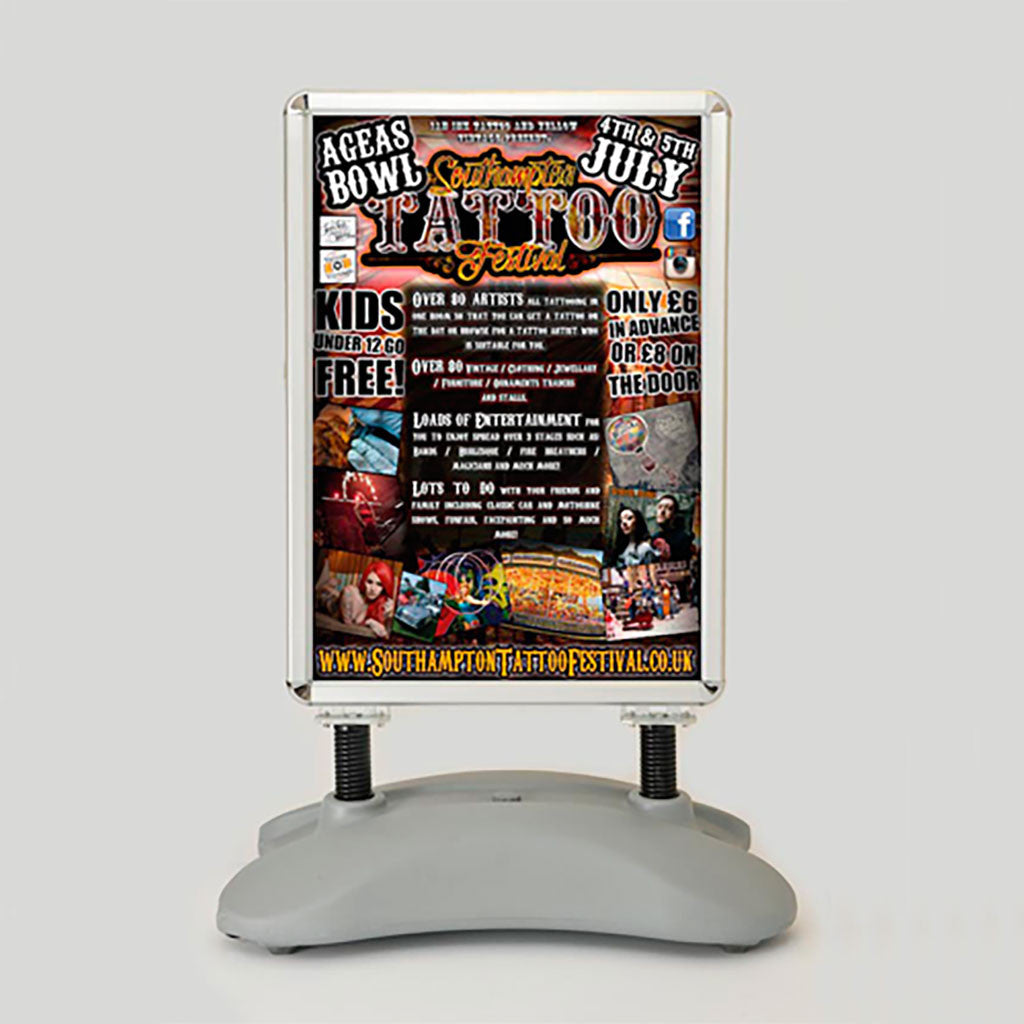 A1 in size
Free standing
Ideal for use outdoors
Fully waterproof and light fast
Supplied with two printed posters on 200gsm outdoor poster paper
Water fillable base
Eazy snap frame for changing posters
From £100 plus VAT.
Top tips
For great signs, you need great content. Here's a few handy hints.
Who do you think your talking to? Define your audience and write briefly for them.
Grab attention – with an impressive (or funny) headline
Be friendly – appeal to your prospective client, don't demand.
What's the one thing you want them to know or do because of reading your signage – pop in, save money or see a great new range of product?
Images – use high quality, bold images that sell the product or service to best effect.
Avoid clichés and clipart. 'Nuff said.
Look up!
Our lightweight Correx signs are designed to be used as ceiling hanging boards and can be hung from any ceiling. Our hanging kits comprise of a 43mm magnetic ceiling hanger with two wires to hang from a suspended ceiling. These light weight boards provide affordable signage because they don't need a frame and are ideal for window displays, trade events or directional signage.
Available in multiple sizes – A3, A2, A1, 0,5m x 0,5m, 1m x 0.5m
Full colour double sided print on 5mm foam core
Drilled with two holes
Available with or without a hanging kit
From as little as £22 plus VAT.
Correx signs are not just great for POS signage they are also super for directional signage at indoor or outdoor events. Team them with one of our outdoor banners and you're good to go.
Strut your stuff!
Not content with ceiling and outdoor street signage? Go the whole hog with table top signage too! Use our strut cards on the floor, on a shelf or on a counter. Perfect for POS, promotional show cards or counter advice. These handy cards have multiple uses and flatpack of easy storage and future use.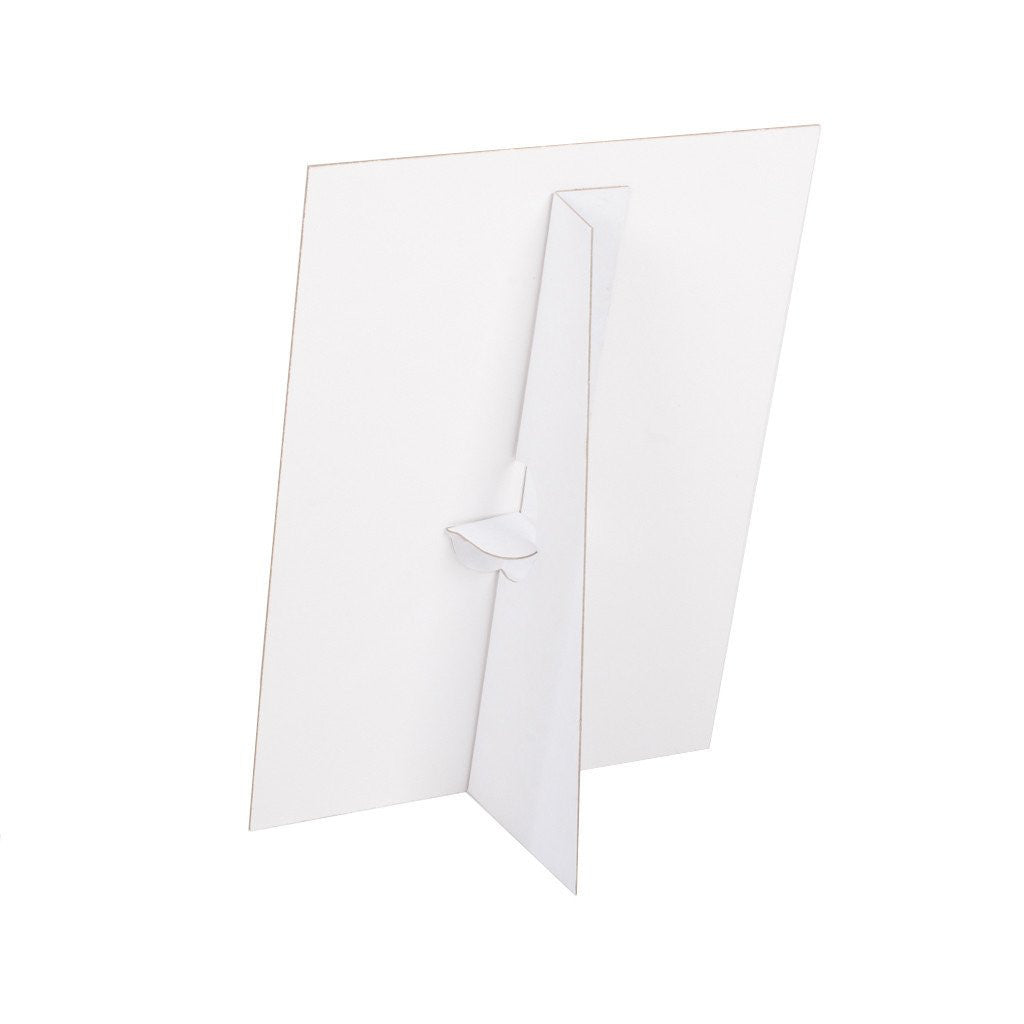 Available in sizes A5, A4, A3, A2, A1
Self-standing
Full colour print mounted to 2mm thick board
Rudder strut to reverse
Optional matt lamination to front
From as little as £22 plus VAT.
Ordering is easy and you can order up to 25 online. Need more? Not a problem, we can print any quantity you need, just call us to speak to one of our helpful staff.
Strut cards are a great low-cost way of adding POS signage to your window display without adding price and promotion labels to your window design.
Flat-pack and lightweight, they're great as counter top signage at events.
Full service
Eazy Print don't just print signage – we also provide a wide range of items, from tiny business cards to giant PVC banners. Browse our roller banners, brochures, stationery, leaflets and much more. Add sales toolkit items to your basket now! All printed and finished under one roof and shipped direct to your door step.