Happy new year to you all and here's hoping for a much better 2021! In our last blog of 2020, we took a look at how blade feather flags can help promote your business or event, or even help keep your visitors Covid secure. This week, we take a look at the humble and often overlooked pop out banner, to see how this nifty device can assist with your corporate marketing.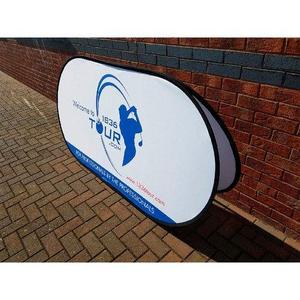 Pop out banners are extremely popular for outdoor events and exhibitions, sporting competitions, fairs, fetes and a whole host of other events.
How do you put up a pop up banner?
These unusual banners are a fun and quirky outdoor marketing solution with an incredibly quick set up process! Simply remove your banner from the carry bag, pop open the high quality steel sprung frame (the graphic will come already attached to the frame for ease of set up) and then push the pegs into the ground to secure it!
How are pop up banners printed?
Pop out banners are printed in full colour, on both sides of a 210gsm knitted polyester material. This is durable in outdoor weather conditions and will survive a battering by the British weather!
Why use pop up banners?
Pop out banners are advantageous in that they are extremely light weight, making them easy to transport, move around and erect. Should you need to reuse them, simply store in the case and pop out again time and time again!
We provide pop out banners in two sizes- small (1,240mm wide x 740mm high) and large (2,000mm wide x 1000mm high) so you'll be sure to find the perfect size for your event.
As with all our products, we can provide custom printing of your own bespoke artwork – simply upload at the checkout stage of your order. However, if you'd prefer to leave it to the professionals, you can take advantage of our in house graphic design team who can create unique artwork from your specifications.
Should you need a custom shape or size, don't hesitate to get in touch, and we'll do our very best to create the perfect marketing solution for your business.