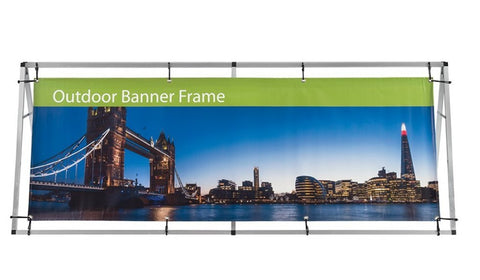 Where can you display an outdoor banner frame?
Our outdoor banner frames are self-standing so can be displayed anywhere – no wall or support needed! Your frame arrives supplied with your custom designed printed banners and with all the fixings, so your complete package will be ready to use as soon as you receive it.
What does my banner frame come with?
Your banner comes with our free-standing frame, ground pegs, bungee cord fixings and a carry case, giving you a quick, portable set up, ideal for festivals, sporting events, garden parties or markets! The outdoor frame is designed to stand up to any and all weather, and the graphic panel will be printed in UV resistant, weatherproof ink, so it'll hold out against the great outdoors!
Choose between a single or double sided display – if you go for the latter, the banners on each side can be different artwork, and this won't affect the price! Design your own artwork or take advantage of our inhouse design team, who will create a bespoke piece for you, based on your specifications and requirements.
What size banner frames do you offer?
Our outdoor banner display frames are supplied in two sizes: 1×2.5m or 1.25x3m, and all outdoor banner frames come supplied with suitably sized artwork and free delivery!
Should you have any questions, please don't hesitate to get in touch!