You can spend a small fortune on the interior design of your business; your shop front, the interior, your office design – all of it to showcase and reflect your business, its products and services. And yes it pays off. But what happens when you have to go out of that setting and showcase your business, when you're networking, exhibiting or travelling on business? Imagine being able to take a portable promotional interior with you, set up, take it down, change it, reset it, all with ease. Well we at Eazy Print feel our clients should not have to imagine. Not when they can invest in our vibrant, full colour, printed banner stands, because they are the stuff of dreams – well banner stand based dreams! But are banner stands worth it? We think so! And here's why…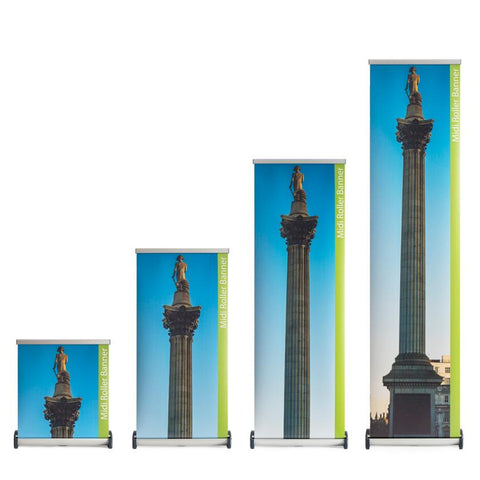 1. Portable and easy to transport
Supplied with a graphic panel and durable padded carry case, you can take them with you wherever you go – should you want to. This means that your marketing device can be fully flexible. Wherever you want to promote your product or service, handy banner stands can be erected quicker than you can say 'eye-catching stand needed for exhibition'!
2. Cost effective
We have a wide variety of price points, so whatever you're looking for, we have a banner stand to fit your needs. We offer budget and economy models for short term or single use, and premium models for long term re-use.
3. Reusable
Our premium banner stands are reusable time and time again. So you're investment isn't just for one event – it's for dozens way into the future!
4. Eye-catching
What do pull ups, pop ups, stand ups and roll up all have in common? Perhaps you are struggling to see the connection. That's perfectly okay, we as your printing specialists can tell you. We'll tell you. They're all a type of eye-catching, custom printable banner stand and they're available from us here at Eazy Print specialise in.
Our quality banner stands can be designed and customised to suit your needs or business setting and with a quality easy to use and stable roller mechanism they can be used again and again. But if you did want to design new banner stands for new aspects of your business or simply because you need to update it, our incredible prices mean you can afford to do it and our quick 48 hour turnaround time means you can get them when you want them. Sounds pretty nifty doesn't it? We think so too.
So are banner stands worth it?
We certainly think so! Your banner stand can come with any design imaginable, in a variety of sizes and models. A banner stand is an eye-catching, cost effective, reusable piece of advertising. So what are you waiting for? Pop us a call to order your banner stand today.
Written by Joanne Serellis