Outdoor banners are a fantastic, versatile way to promote products, advertise events and communicate with your customers. Whether you go for PVC or Mesh (read about these in our post all about mesh banners) an outdoor banner will do wonders for your business. But how do you hang an outdoor banner? Follow our easy guide below to ensure your banners are hung to perfection! 
A word of caution
Outdoor banners are provided fully hemmed with eyelets attached, for your convenience. Whenever hanging an outdoor banner, we'd strongly recommend that you make use of all the eyelets, and not just the corner ones. This will keep the banner secured much more firmly and reduce the risk of your banner flapping, tearing or flying away in the wind. If you're intending to hang your outdoor banner in a particularly windy area, we'd recommend using a mesh banner. The small holes within the PVC mesh allow the wind to travel through the banner, instead of pushing it and making it flap. 
Before you start hanging your outdoor banners, make sure that your banners are well-maintained and are made by a reputable vendor. All our banners are weatherproof and printed with UV resistant inks, to ensure your printed designs don't fade in the sunshine. When hung, your banner should be flat and legible, but be careful not to have your banner too taught, as this could lead to ripping if the weather turns bad.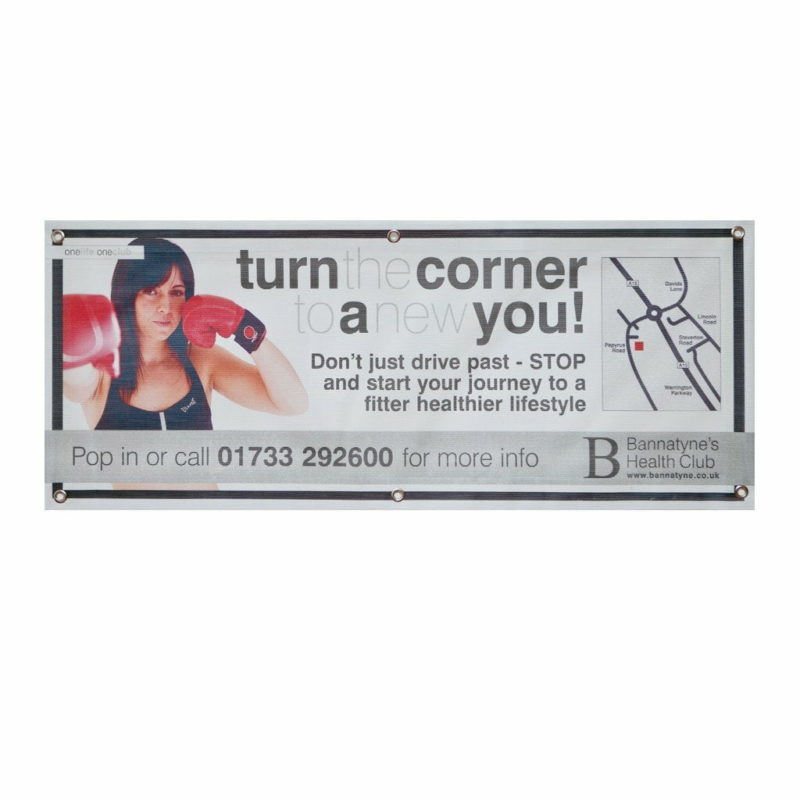 How do you hang an outdoor banner on a wall?
The best way to attach a banner to a wall or fence is to use screws. 
Step 1. Hold your outdoor banner against the wall and mark positions to drill holes through every eyelet with a marker. 
Step 2. Drill a small hole in the place of each marked point – make sure you create a hole that is the right size for the wall plugs you have.
Step 3. Using self tapping screws, screw the banner to the wall with a washer that is large enough to cover the eyelet.  
How do you hang an outdoor banner on railings?
The best way to attach a banner to railings is to use cable ties or bungee cords. 
Step 1. Thread 370mm cable ties or bungee cords through each eyelet
Step 2. Fasten cable ties or bungee cords onto equally spaced points on the railings. Allow for the banner to be flat but not overly taut. 
Note: If you're hanging your banner in a very windy place, use bungee cords to allow for some movement. This will help your banner remain undamaged. 
How do you hang an outdoor banner
between two posts?
You can attach an outdoor banner between two posts by using rope and bungee cords.
Step 1. Tie one end of the upper rope to the pole
Step 2. Thread the rope through every eyelet along the top edge of the banner and secure on the far pole
Step 3. Do the same for the bottom edge of the banner
Step 4. Pop a bungee cord through the four corner eyelets to allow for some movement and to keep the banner flat. You can also use cable ties for the corner eyelets, but we'd only recommend this if the area displayed is sheltered from the wind. 
We hope that answers the question: how do you hang an outdoor banner? If you have further questions, don't hesitate to get in touch with our friendly team today. We'd be delighted to help! Alternatively, take a look at our outdoor banner stands: easy to set up and perfect for displaying your custom printed outdoor banner!
For rope, bungee cords, washers and screws order online or take a look at a hardware store like Wilko or B&Q.