According to BVEP (Business Visits and Events Partnerships), the UK events industry was worth £42.3bn in 2018, up 8% on the previous year, with the business events sector accounting for 30% of the whole UK visitor economy. This sector includes all conference, seminars and networking sessions, as well as exhibitions & trade shows attended to further commercial interests and build business relationships. The combined value of these is estimated at £19.9bn with over 1.3 million meetings held each year. To support these figures, the Events Industry Council reported that 81% of companies use 'in-person' events in their business to business marketing strategies.
UK businesses still view face to face meetings as an important part of generating leads and closing sales. But how does trade show attendance feature in the current digital phase for commercial growth? Are trade shows really worth the investment and what is the future prognosis for these events? Put simply: why are trade shows important for business?
Why Are Trade Shows Important For Business?

x
The benefits of attending a trade show
"Personal contact is still vital despite the importance of Internet and Social Media platforms… consumers are powered by experiences and emotions … businesses need to meet the professional needs and emotions of their consumers." (Nick Gold, MD of Speaker's Corner)
There is no doubt about it that people prefer to buy from other people. It may stem from the fact we are generally communal creatures and therefore respond well to  reassurance or persuasion from another human being. Whatever the psychology behind it, face to face engagement at trade shows and exhibitions remains an effective method for buying and selling. The key objectives for businesses attending a trade show are:
 To sell products and services and to generate leads for future sales
 To connect with amenable potential customers
 To seek out supportive businesses
 To monitor trends in the industry
 To share information and experiences
 To get your products in front of new and existing customers
 To learn from potential customers what they need
 To train employees to communicate and sell
 To test new products, processes or ideas
 To keep an eye on the competitors
 To make use of the large pool of potential leads for research, networking and brand expansion.
(Source: Vispronet)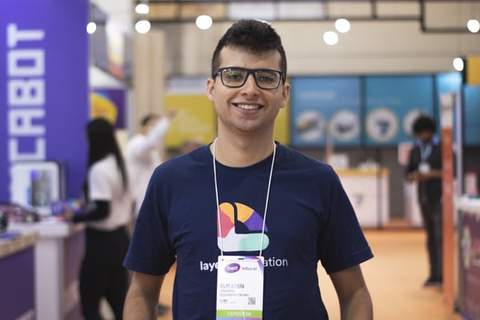 Event Marketing versus Online Marketing
Although attending business to business events offers many advantages for creating brand awareness, building a customer base and increasing sales, the cost to register, display and attend these events is viewed as a disadvantage by digitally focused businesses. The initial outlay for purchasing exhibition space can be expensive with major UK venues charging between £300 – £350 per square metre which equates to £3000 for an average sized stand. It is likely these costs will rise in line with demand for trade show events.
However, these fixed costs are offset by careful planning to maximise on staff time and other resources. For example the staff chosen need to be trained to engage effectively with customers, or a recyclable display can be purchased to reduce costs for the next trade show. For more information on how to manage costs read our blog 'how to budget for a trade show.'
Marketing online offers the benefits of convenience and quick service, low operating costs and opportunity to reach specific demographic groups within a wide area. But if a business were to rely solely on promotion and selling online, maintenance costs would need to be factored in, along with developing methods to correct security or privacy issues and worldwide competition through globalisation would also need to be weighed carefully.
Whilst both types of marketing have their advantages, it would be most beneficial for businesses to employ the use of face to face in conjunction with digital methods to draw in customers, promote their products and complete sales.
Interestingly, research undertaken by HubSpot in 2017 revealed that "68% of professionals value face to face interactions rather than online ones and 50% of trade show marketers agree social media brings more people to their booth than conventional advertising." This suggests that digital and conventional marketing methods compliment each other when working for the good of a business.
How successful are Trade Shows?
Clearly, there are advocates for both types of marketing, but evidence for  effectiveness and usefulness of trade shows in building business can be ascertained from hard facts and statistical data, as summarised below:
Visitors to trade show stands:
 Spent 5.5 hours on average at the venue
 64% met exhibitors for the first time
 92% attended to learn about new products and services
 65% said attending the event gave them a greater understanding of products and services
 46% of executive decision makers attending made purchases
 76% of executive decision makers asked for a price quotation
 77% of executive decision makers found a new supplier
Exhibitors at trade shows:
 70% participated to strengthen business relationships and partnerships
 65 % attended to meet up with existing customers
 58% took part to see colleagues, catch up on industry trends and to strengthen networks
 64% chose to exhibit at a trade show for the quality of attendees
 They spent between 5-10% of the marketing budget on attending a trade show
 They started planning their attendance at a trade show most commonly 1 to 4 months before the event
 In their view the main advantages of attending a trade show are to meet potential clients and to build brand awareness
 They felt the most successful methods for attracting visitors were the display stand and the offer of giveaways. Social media was viewed as less important.
 Almost half of businesses exhibiting spent between £500 – £2000 on their stand displays. For insight into what displays are available take a look at the Eazy Print exhibition collection.
 Three quarters of exhibitors felt positive about the future of trade shows and expected their budgets to increase the following year. In line with this event organisers said their events are likely to grow over next 12 months.
(Source: Eventbrite 2018, Display Wizard, CEIR, Freeman Exhibit)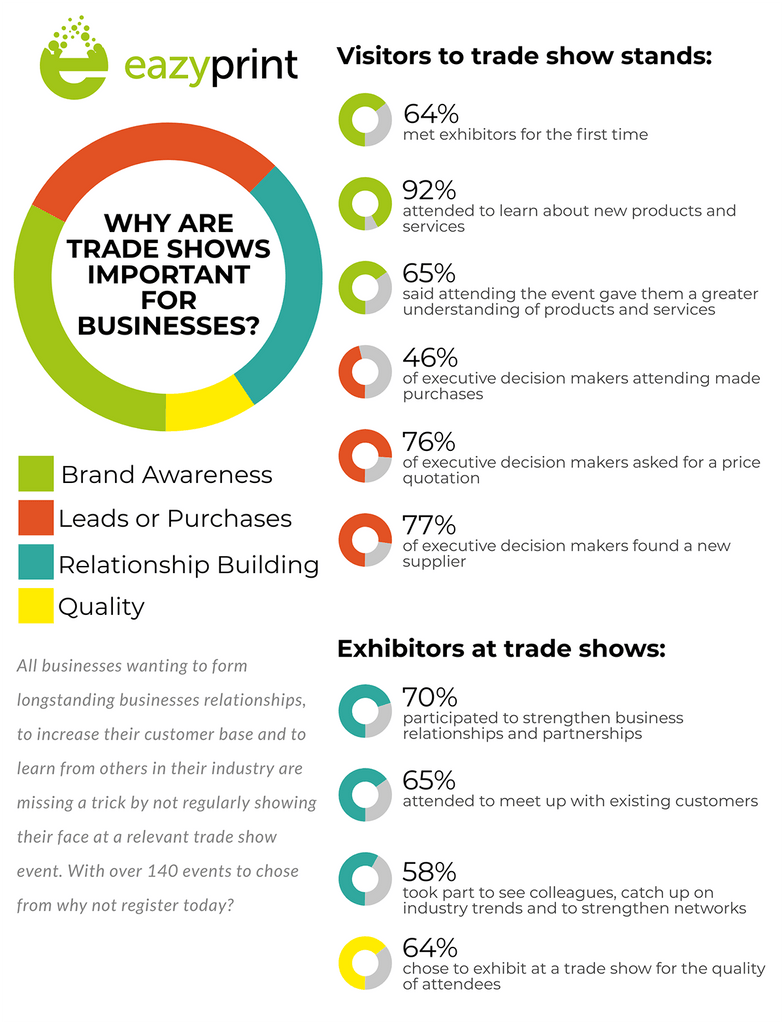 All businesses wanting to form longstanding businesses relationships, to increase their customer base and to learn from others in their industry are missing a trick by not regularly showing their face at a relevant trade show event. With over 140 events to chose from why not register today?
For advice and guidance on how to create a successful display call Eazy Print on (02380) 700 111 to speak with an exhibition display professional.