With the coronavirus pandemic still ongoing and the government's advice changing from day to day, keeping track of what your business needs to remain Covid-secure can be a challenge – even if you've already reopened! So what coromavirus sigange do you need? We find out…
What coronavirus signage do I need?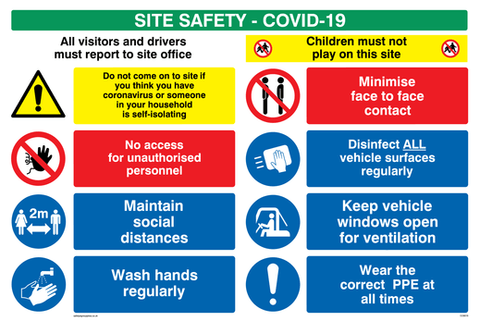 As Gov.uk advises:
'You must maintain social distancing in the workplace wherever possible. Where the social distancing guidelines cannot be followed in full in relation to a particular activity, businesses should consider whether that activity needs to continue for the business to operate, and, if so, take all the mitigating actions possible to reduce the risk of transmission between their staff.'
The specific steps you'll need to take to reduce the transmission risk will depend on the kind of business you're operating. By law, all businesses are required to:
Carry out a complete risk assessment which includes Covid risks
Implement sufficient measures to control Covid risks
Any businesses which fail to comply can receive hefty fines and even 2 years' imprisonment for the owners; although you're more likely to simply receive advice on how to fix the issues you're facing.
What Covid signage is required to maintain safety?
So where do signs factor in? Strictly speaking, Covid signage isn't required for your business; but when it comes to complying with the required health and safety guidelines, signage provides the safest and most efficient solution hands-down.
With signage, you can notify everyone of the new working procedures you've implemented, and the rules they'll need to follow while they're on your premises. This avoids the need for face-to-face communication and/or group meetings; which can not only increase the risks of coronavirus transmission, but can also be time-consuming at best and downright impractical at worst (especially when it comes to customers and visitors).
Again, the kind of signage you'll need will vary depending on the kind of business you're running. Here's some of the typical ways Covid signage can help your business fulfil your health and safety obligations:
Entrance signage (such as posters and boards) can remind staff and customers to observe rules and procedures (such as wearing face coverings wherever they're required, washing hands at designated sanitisation points, or staying away from your premises if they have Covid symptoms).
Wall signage can also be used to share new operating procedures and scheduling changes; such as staggered shift plans for employees, instructions for preparing Covid-safe orders, or customer number limits within retail spaces Wall/countertop signs and stickers can display NHS Test and Trace sign-in instructions, and/or display QR codes for easy access.
Floor stickers can direct staff and customers around one-way systems, and mark out 2m distances in shopping aisles and queue areas.
Floor stickers and PVC roller banners can identify and separate specific areas of your premises where certain procedures should be followed; such as drop-off points, transfer zones, client reception/interaction spaces and dining areas.
Roller banners also enable you to cordon off closed areas of your premises, providing a more professional and attractive alternative to tape barriers.
Stickers can be used to seal and/or label food containers and takeaway bags; indicating that the container has not been tampered with, and providing a reminder to sanitise hands before dining.
What other signs does my business need?
Safety reasons aren't the only reason that your business might need in a post-Covid world. Many businesses are also reprinting their signage for reduced product menus, or to reflect changes to product prices due to the government's coronavirus VAT cuts.
Signage can also help you communicate with returning customers; welcoming them back after lockdown, reassuring them that your business has taken the necessary steps to ensure their safety, and thanking them for their patronage during this difficult time.
Again, the kind of signage your company might need really depends on your particular company's circumstances. But when you're putting together your safety signage shopping list, don't forget to consider your non-safety signage needs as well!
Where can I buy Covid signage?
Plenty of online printing services are offering coronavirus signage to help businesses stay Covid-secure – including us here at Eazy Print.
Our team can supply posters, pavement boards, Correx and foam board signage, roller banners, floor stickers, labels and more to help you keep your staff and customers safe.
Browse the complete range online, call us on 023 8070 0111, or email us at info@eazy-print.co.uk to discuss your requirements today.