You certainly already have a good idea of how to design a banner. You know that you have to think about the colours, you have to think about what text to include, you have to think about the images, and all those other important and relevant details. But when you are creating an outdoor banner, it's quite easy to fall into a particular trap. If you don't exactly know what you are doing – or what you are dealing with – you can end up making big mistakes. Take a look at our  top four tips for designing an outdoor banner for your business.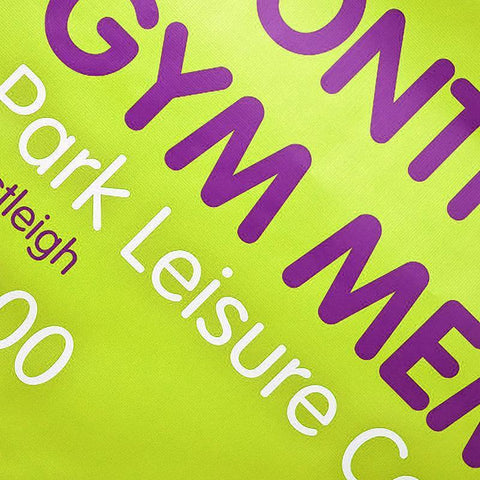 Tips for Designing An Outdoor Banner
1. The temptation of space 
The space issue is a problem that many of us don't know how to deal with. Since you are looking at a lot of empty space, you may be tempted to fill it with as much information as you can. Before you do this, stop and think about the purpose of your banner.
If you are using your banner for a specific purpose, such as to promote a product or to promote a sale or offer, you don't have to cram it with too many details or information. You have to identify the main purpose of your banner and go from there.
Alternatively, if you would like to sell a new product, then focus on the product's main benefits and present your customers with a clear invitation to act. If you are using your banner to give more information about your company, make sure to include your contact details, the company's website, and your social media pages.
Keep your banner legible from a distance at all times!
2. Your banner's format
Any good outdoor banner printing service will tell you that the formatting of your banner plays a vital role. You need to make sure that your banner is properly formatted for easy reading and for information to be clear.
Text, for instance, should be arranged in a pattern from the top of the banner going downwards, or from the left side to the right. If you are using your banner for promoting an offer, then you need to place this clearly as well. What is the product being offered, and what do customers have to do to avail of that offer?
Also, think about your logo formatting. When using your logo, it's better to place it at the top. The most important text or information on your banner should ideally be placed at eye level.
3. Let those true colours shine through
Next, you have to think about the colour. It wouldn't do to just choose colours based on what you think may work. Identify your customers first. Women tend to see a more varied selection of colours, whilst men don't have that particular attention to colour differentiation. Use colours that would stir the emotions of your customers, but make sure they blend well with your company colours as well.
3. Consider your material 
Outdoor banners are made to last, so as long as you're choosing a specifically outdoor banner, you'll be fine! PVC designed for outdoor use is printed with UV resistant inks to ensure your design doesn't fade. It's also waterproof, so come rain or shine your banner will look great!
However, if you're going to be displaying your banner in a particularly windy area, you might want to consider using a mesh banner. Mesh banners are still PVC, but are printed with lots of tiny holes in the material, to ensure the breeze flows through your design. This prevents flapping and helps keep your message visible at all times!