How To Sign Off A Business Letter
Knowing how to properly sign off your business letters is incredibly important. In many ways, it's your last chance to make a good impression on your customer, client or supplier. As such, it's essential that you leave them on a positive and professional note.
But what's the best way to sign off a business letter? Follow our handy guide to ensure you're never caught out when it comes to your correspondence.
How to sign off business letter writing
Know your audience
First things first, make sure that you tailor your letter and your sign off to your respective audience. Various sign offs are very formal, whereas some are much more familiar. Much like at an event – you don't want to 'under-dress' for your recipient. When in doubt, choose a more formal sign off as this indicates respect.
Consider your options
For very formal letter writing, sign off with one of the following:
Sincerely
Regards
Yours faithfully
Yours sincerely
It's an old and slightly outdated rule: never put 'Sir' and 'Sincerely' together. In other words, if you don't know their name (and you're writing 'To whom it may concern' or 'Dear Sir/Madam') choose another option. 'Sincerely' is traditionally a formal sign off between named parties. We doubt anyone is a stickler for this rule, but it's worth abiding anyway!
For a moderately formal letter, you can choose to end with one of the following:
Cordially
Respectfully
Kind regards
With sincere thanks
And finally, for a professional but affable business relationship, opt for:
Warm regards
Best
With appreciation
Many thanks
These closings are most appropriate if you have some kind of previous professional relationship with the recipient. Remember to respond in kind to their correspondence; if their letter or email elevates the formality of tone, you should match them.
When writing business correspondence, it's important to maintain a tone of professionalism, even if you do have an established working relationship with the recipient. As such, you should avoid casual sign offs such as:
Love
Take care
Xxxx (kisses or hugs!)
See you
Cheers
Finish with a signature
A company signature demonstrates professionalism, a personal interest and accountability. Your signature should fall beneath your sign off in the format:
Sign off e.g Yours faithfully,
Signature
Typed or printed name.
Even if you have typed out your letter, it makes a much better impression to sign your name in ink. This demonstrates that personal care has gone into the correspondence and makes your customer or colleague feel valued.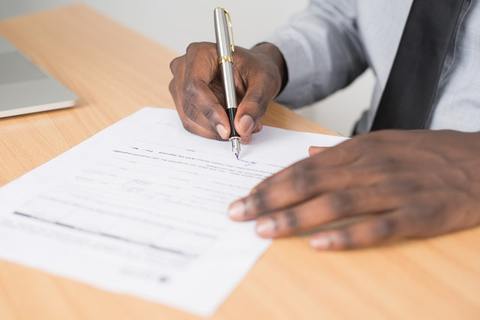 How to start off a business letter
So you know how to sign off… but how do you start a business letter?
Letters (in the physical sense, not via email) should begin with your address in the top right hand corner, with the date underneath. Slightly further down the page and indented to the left, you should write the recipient's address, like so:
Blog Writer
Eazy Print
Stanton Road Industrial Estate
Southampton
SO15 4HU
12.5.21
Dear Reader
Reader's address
The World
Dear M. Reader,
If you want to make it really easy for your reader to contact you, include your telephone number or  email address under your address in the top right hand corner.
Complete your message with personalised stationery
So now you know how to start, end and layout your formal business correspondence. Now it's time to consider the stationery that you're writing on!
It's important that the respectful formality of your writing isn't undermined by poor quality, generic paper. To ensure that you present your business as professional and detail-orientated, opt for custom printed letterheads. Not only will these display your business branding in a clear and attractive way, you can also print contact details, social media handles and QR codes on your stationery, ensuring your customers have every way of contacting you. And, with variable data printing you can even print individual discount or promotional codes for each loyal customer.
Create your own artwork and promote your company branding, logo and imagery. Alternatively, if design isn't your thing, you can opt for our in-house design services.
Our custom printed letterheads are available in a4 or 45 size, on high quality 100gsm or 120 gsm bond stock. We print in full colour to ensure your design really 'pops'!
Conclusion
There's no doubt that a well-written letter, on quality paper with eye-catching branding, can do wonders for your company's image. For a real lasting impression make sure you:
Choose high quality paper and printing
Write in a formal tone
Structure correctly
Have a custom letterhead displaying your branding
Include ample contact information
Sign off with an inked signature (even if the letter is typed).
Should you have any questions, don't hesitate to get in touch with our friendly team today.