It's been proven time and again that vinyl display banners offer a good return on investment for any business, especially in these times of austerity. They are inexpensive to produce, requiring limited staff input. They are also highly effective in conveying promotional messages to large audiences and have the potential to be used and reused over long durations, if stored and treated correctly. But how to protect vinyl banners from damage… that is the question? Read on for all the information to ensure your vinyl banner lasts as long as possible. 
So what should businesses be aware of when it comes to protecting this investment in order to really get the most out of the banner's information giving capabilities?
What are vinyl banners?
The message-laden pennants, now known as banners, are a common sight in our modern world. Colourful, eye-catching, thought provoking and educational, they act as information providers to hoards of onlookers on the move. 
Vinyl banners are useful in telling a story, creating awareness and sending messages in external locations. PVC or polyvinylchloride (vinyl for short) is used as a top layer for polyester based banners to provide durability whilst on display to the elements. This material also guarantees, with every printed design, vivid colours, legible text and crystal clear images, along with the flexibility to attach them to virtually any static structure.
Higher quality vinyl banners are printed on 500gsm banner material and reinforced with hemmed edges to maintain its shape and finished with metal rimmed eyelets to secure it into place. Banners also come with 'pole pockets' to insert stakes along its edge to prevent snagging.
As they are essentially made from a form of plastic. As such, the waterproof and weatherproof properties of vinyl banners makes them ideal for outdoor use. And whilst special printing inks and protective coatings are added to reduce fading from the sun, the weather is not the only threat to the longevity of these useful banners.
How to protect your vinyl banners from damage?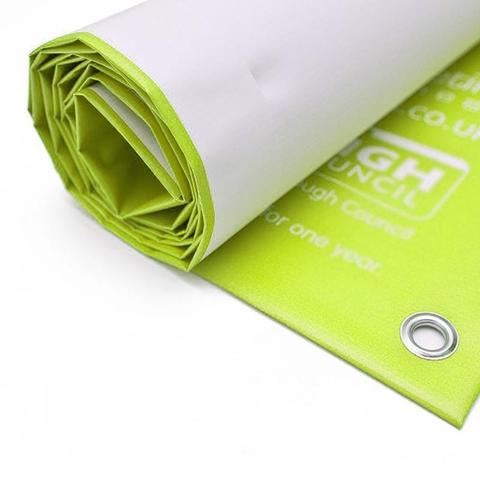 1. Handle with care
Vinyl banners may be robust and hardwearing when it comes to withstanding a constant battering from the weather, but they may not fare so well when it comes to mishandling and neglect. There are three aspects to their usage that require caution if the banner is to last as long as expected; hanging, cleaning and storage.
Hanging your vinyl banner
To help decide the best place to hang your vinyl banner ask yourself the following questions:
Where will the banner be on view from all angles and be easily noticed?
What structure will you be hanging it to?
How will you attach the banner to the structure?
Will the banner be open to all weathers and how extreme could this be?
Locating the banner at a good vantage point such as high ground, on a pole over head or on a tree will ensure that it is easily seen and noticeable from a distance. Make sure that it is not covered by branches or an overhanging roof, but in an open space with no obstructions. Some good locations would be overhead on an access gate or building wall, at the brow of a hill, on scaffolding next to a main route or on fencing as you enter a car park. 
Outdoor banners can be attached to virtually any structure but firstly make sure that it is stable and will remain in situ for the duration of the display. Vinyl banners can be suspended between poles, on lamp posts, bridges, walls, fences, above doorways, from trees, scaffolding etc, in fact-  against anything that is rigid and secure in itself. 
Once you've decided on the location and structure to attach your vinyl banner to, you can then select the best way to secure it. Choose from;
Ropes – If the banner has eyelets (metal reinforced holes) choose how many to use to ensure it will remain attached. If you are putting it up in a windy area then you may wish to use all the grommets to secure the banner! Loop one end of the rope through each grommet and then wrap the other end round the pole, pillar or fence and secure using a reef knot.*
Bungee Cords – These are great for keeping vinyl banners in place as their elasticity allows the tension to flex and 'give' with wind movement. If they have hooks at both ends there is no need to tie off. Simply push the bungee cord through the grommets ensuring that tension is evenly distributed throughout the banner. Loop the cord over the edge of the banner and back through the loop to make a knot and attach it to the structure using both hooks. 
Suction Cups – are ideal to attach the banner to windows or glass for short term usage. Attach one suction cup to the structure as an anchor point, put a grommet over the suction cup or through the included hook. Pull the banner taut before repeating this with each grommet and suction cup until all points of the banner are attached.
Carabiners- These are a specialised type of shackle or metal loop with a spring loaded gate used to quickly and reversibly connect to other components. Affix one carabiner to each corner of the banner via the grommets or reinforced eyelets. Tie off a piece of rope or polyester cord to each carabiner and then to the structure using a reef knot. * Alternatively, you can attach the wide end of the carabiner to the hook end of a bungee using the other hook to attach to the structure.
NB; When hanging your vinyl banner ensure the display sheet is smooth and pulled taut or your message will be hard to read in amongst the wrinkles and creases.
2. Clean your vinyl banner
Once your banner is in place it will need occasional care to ensure the display remains bright and legible. They can be easily cleaned using mild soap and water and a soft cloth, such as microfibre. 
However, vinyl banners should NEVER :
be cleaned with detergents as this destroys the ink
be cleaned with solvents
be scrubbed or cleaned with anything abrasive, such as scourers or cleaning pads, as this removes the waterproof layer 
Vinyl banners also need to be looked after even when you're not using them.
 3. Store your banner correctly 
You may decide to remove your banner after a seasonal campaign has ended or with the onset of winter in order to reuse it the following summer. As this could mean that the banner will be stored for a long period of time it's important to make sure it is stored correctly to maintain it's condition. Follow a few simple steps to keep your banner looking good year after year:

First clean as suggested above and then be sure to dry it off well. If it is put away damp this will cause mildew or make it stick to itself, damaging the print

Do not fold it as this causes creasing which will impact the overall look and clarity of your design

Use protective paper to cover the printed side of the banner
The ink side should not come into contact with other parts of the print as it or may stick to itself and rub off the lettering
Roll it up loosely and evenly keeping the lettering and graphics to the outside to prevent letter separation and air bubbles
Store in it's original packaging or a cardboard tube
Keep the rolled up banner dry and cool (below 25 degrees).
Some final advice for how to protect your vinyl banners from damage…
Outdoor banners come in a variety of forms to suit all requirements so take a look at what's available before making your choice. 
If you'd like to have flexibility in where you place your vinyl banner, then consider a free standing outdoor banner frame which comes with its own printed banner and all the necessary fixings. 
And if you'd like go big and have a super striking display that cannot be ignored, whilst also having the flexibility of location, the Outdoor Exo display stand may be the one for you!
If you need the same care and attention in making a good banner purchase or you need a little assistance when it comes to creating your design, Eazy Print is always here for guidance and reassurance. 
Call the team today on (02380) 700111