We know that printing prep can be something of a tricky business; luckily it's our business and we've compiled a handy guide on how to prepare a brochure for printing! Follow the steps below for ease of preparation, or contact us should you have any questions.
Before you begin, why not take a look at our wide range of brochures and booklets for some inspiration?
How to prepare a brochure for printing
Follow our steps below for perfect brochure, magazine or booklet preparation…
Step 1: Create your brochure design
When creating your brochure design, remember to ask yourself: who is the brochure aimed at? What format will the brochure be available in? What size and shape will your brochure be? Once you've answered these key questions you can get to creating your design!
Whilst creating your design make sure to follow these tips:
Use colour sparingly and judiciously, so it complements your logo and branding. Choose colours that evoke the correct physiological response in the viewers; for example, if your brochure is promoting a new nursery day-care, you wouldn't want drab greys and beiges, you'd want to use bright colours like pink and yellow, to evoke happiness and excitement.
Choose a font that complements your message. As with colour, font can evoke associations in the viewer, so ensure your font matches your message.
Copy: ensure your writing is legible, clear and proofread!
Images: use pictures that are relevant and have at least 300dpi resolution.
You can read more about creating a brochure design in our article '9 tips for designing your brochure.'
Step 2: Choose your paper stock
We print on silk stock as standard, as it provides a crisp, clean and professional look.  However, you should always consider the best stock for your brand. Perhaps your company is very eco-conscious, so recycled paper would be a better option? Or perhaps you'd like your brochure cover to be a heavier stock to the other pages, with our heavy cover printing?
Consider what best promotes your brand message. Should you wish to consider other stocks, our friendly team would be happy to help you, just get in touch today!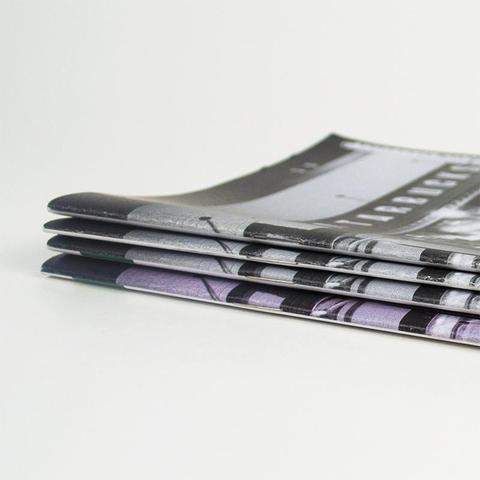 Step 3: To laminate or not to laminate?
Consider lamination to add durability and finish to your brochure. Gloss laminate offers a glossy finish, and gives colours the illusion of seeming brighter.
Matt laminate is a more subdued option, evoking feelings of luxury and elegance. Soft-touch laminate provides a velvety feel, for extra opulence.
Step 4: How to prepare your booklet or brochure file
Once you've finished your design make sure to follow these tips to ensure a top quality print.
Ensure your software is set to CMYK colour not RGB, to make sure that there are no colour discrepancies in printing.
Add a trim line for cutting purposes.
Set up a bleed area around your design (we recommend 3mm around the edge) and make sure any important elements like text or graphics are inside this line.
Set the resolution of images and the file to at least 300dpi to avoid pixelated images.
Save as a non-editable PDF and embed any fonts you have used.
We hope you found our tips on how to set up a brochure for printing helpful. If you have any questions, don't hesitate to get in touch today!