How To Make Your Own Magazine Company
So you have a fantastic idea for a custom printed magazine, but you aren't sure where to start. There's so much to set up, create and think about before you can begin distributing your finished product. Follow our handy guide to make your own magazine company a reality.
Where to begin
You'll need to consider and research a few things before beginning to create your own magazine. Start off by thinking about the following:
Audience – who is your target audience, and how would your magazine appeal to them?
Reception – are their similar magazines and what has their reception been like?
Competition – what will make your magazine stand out from the rest?
Tone – how will your 'voice' be? Authoritative and scientific or friendly and approachable?
Funding – how are you going to fund your magazine?
Once you've answered those questions, you're ready to begin creating content.
Magazines appeal because of their interesting and easily-digestible content, so ensure you've got some fantastic writers on staff. Try and get an editor on board too, to ensure the text is accurate – you don't want typos in your first edition! Finally, seek out a sales and marketing manager, to give you some advice on how to market your finished product. After all, sales are the aim!
How to get your magazine published
Once you've got your fantastic content, it's time to find a printing partner. There are various factors to consider here including:
Cost
Turnaround time
Customer care
Paper stock
Printing quality
Environmental impact
You want to find a printing company that can provide you with high-quality products, at a reasonable price, with a quick turnaround.
Depending on your company ethos it's also appealing to potential customers to ensure your products are fully recyclable – or indeed made from recycled paper stocks in the first place. At EazyPrint magazine printing and newsletter printing can be done on recyclable paper stock; we also take care to reduce our environmental impact with cartridges recycling, lithographic vegetable-based inks and carbon neutral deliveries.
Some companies, like EazyPrint, also offer a design service. If you've got all the text covered, but you aren't sure about a logo, images or layout, simply get in touch to see what our friendly team can do for you! We offer a variety of services depending on your artwork and design needs.
How to get people to advertise in your magazine
Once you've got a completed edition ready to go, you might want to consider getting some advertisements in your magazine. This is an easy and effective way to generate income. Include the advertisements in the body of your pages, or consider an insert. These are lightweight flyers that are easy to produce and cheap to print. That way, you won't lose any valuable space in your pages for advertising.
If you're looking for companies to advertise in your magazine, consider the following:
Seek out local companies; a face to face relationship is easiest when starting out
Try to approach companies who share a theme or interest with your magazine- for example, if your magazine is all about fashion, a local shoe boutique would probably jump at the chance to have a captive audience for its advertisements
Offer a recurrent fee at a reduced rate for regular advertisers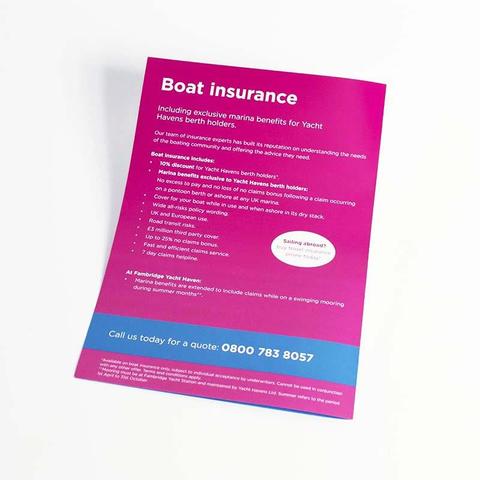 FAQs -How to make your own magazine company
How much does it cost to start a magazine company?
The amount you put in really depends on several factors, so there's no one set figure. Costs will be determined by:
How many staff members you initially hire and their recompense
The quality of the paper and printing and the

cost of magazine printing itself

The advertising and marketing campaigns
The distribution and delivery costs
Any copyright purchases for images etc.
Remember, to keep the magazine printing costs down, find a company that does the entire process in house. At Eazy Print, we have every aspect of design, print and production under one roof. As there are no middleman supplier costs, this means the cost to print a magazine is lower than some other companies, allowing the price to be lower for the customer!
How do magazine companies make money?
Magazines make most of their money through advertising. Consider large scale companies like Vogue – generally something like 10 percent of the pages are adverts. It's best to try and get some advertisements in quickly at the beginning of your start up; once you've got some regular clients, chances are they will continue to pay for advertising space in your future editions, as long as it generates traffic to their product.
Do magazines still sell?
Absolutely! Whereas the availability of internet offers information at the touch of a button, to the detriment of magazines, it also offers new ways of customers buying and viewing publications too.
And don't forget- the demand for digital magazines is ever growing. Double your profits and ensure your hard copies are also available for a fee online!
If you'd like to discuss your magazine printing needs, simply get in touch with one of our friendly team today.