It's official. Word's out about just how well display banners can work for your business at trade shows. Not only are they practical, versatile and reusable, but they have a knack of drawing the crowds to your stand – if you use them in the best way.
So your next question must be – how to get the best out of your trade show banner? We're here to help…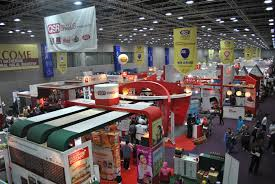 How To Get The Best Out Of Your Trade Show Banner : A Guide
A strategy for your Trade Show stand
There are three main areas we need to look at when preparing a strategy for using display banners at a trade show or exhibition. What type of banner will suit the purpose; where should we put it to get noticed; how easily can we get the banner, along with the rest of the equipment, to and from the venue?
Which banner?
If you've ever bothered to look online for a banner you'll find an abundance of choices. Not only do they vary in size and shape, but also in structure and types of material used. So how do you choose the right one for your trade show stand?
 Think about the purpose of the banner. Do you need it to direct people to your display, or to advertise key information about your product or service? Or maybe you just want it to serve as a pretty backdrop? Once you have a key objective in mind for the banner to perform, then it will become apparent what size, makeup and design of banner you will need.
For guidance on what types of stand are available take a peek at the Eazy Print repertoire.
2. Think about who will be viewing your display. Will your audience be made up of a particular demographic group? Families for example or maybe predominantly females or perhaps just corporate representatives? When you are clear what you are advertising and to whom, it will be easier to come up with the design of your display banner. Remember you need to create something simple; catchy; colourful; clear. Make sure that images are impressive and of high quality and that text is kept to a minimum. Be concise in the wording you choose and use plenty of action verbs to motivate.
For more tips on how to make your event day a roaring success read our blog 'How to draw more visitors to my exhibition stand.'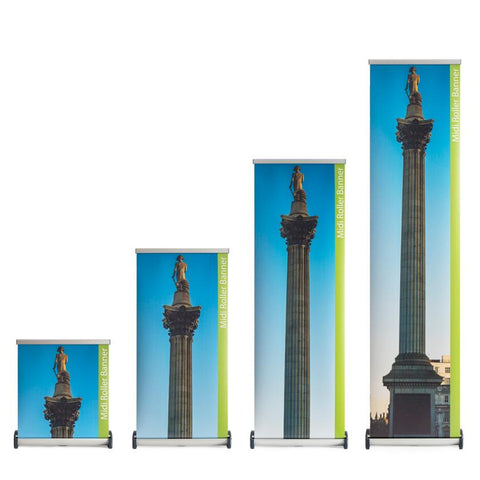 Where to put your banner?
Trade show display space is limited and expensive so consider making the most of every centimetre you're paying for. The standard sizes at exhibition events are 10 x 10; 10 x 20 and 20 x 20. Don't forget this includes overhead height which is often missed and can be effective in enticing visitors to your stand, but check first there are no height restrictions! Hanging banners and displays suspended from the ceiling or framework are visible from a distance and may pique the interest of approaching visitors.
 Other factors to consider are:
 When choosing a variety of display banners, wider and larger models should be located around the perimeter of your stand to partition from the neighbouring one. Smaller more compact banners that are free standing can be dotted around and used to provide the key points you wish to share with your audience regarding your business or product/service. Beware of not overdoing it. Too many banners will make your stand claustrophobic and uninviting!
Ensure your banner display is visible and readable from all angles. Roller banners are great to use within your stand area as they don't take up too much room but you can still include a fair amount of information on them.
Avoid locating your banner behind counters, tables or seating unless they are being used as background decoration. Wide roller banners or interlinked banners create an advertising wall or attractive back drop to give your area some structure and containment. 
 Keep your stand free from obstacles and clutter to create a feeling of space and to enable visitors to move around more freely without tripping or knocking the display. There should be clear walkways through and open areas for mingling and seating to create a linear flow, even with high numbers of people.
Desk top roller banners take up no space at all and can be set up on tables or display surfaces making brief announcements to those passing by to 'pick up a leaflet' or 'help yourself to a coffee' for example.
Moving your banner
Exhibiting at a trade show is already hard work so make sure the displays you use are easy to put up, take down and to transport. The large rigid modular structures are tricky and time consuming to set up. Unless you have a dedicated team who have the time to put together these displays it may be more practical to invest in a variety of lightweight roller banners that can be literally set up in seconds. Those who have experienced the simplicity of these little contraptions marvel at just how easy they are to put into place and to take down after a long arduous day at the show! 
Transportation couldn't be simpler either. Once safely rolled into their base and zipped up into their carry bags they are barely the size of a large rolled up poster. This also makes storage a piece of cake as they take up so little space.  
Don't forget the extras
Whilst banners in their various forms are super useful in creating a framework for your trade show stand there are other items needed that provide the right ambience; image or a certain creativity, as well as enhancing these displays. 
Take a look at 'It's those finishing touches that gets your exhibition stand noticed!' for advice on accessories.
Accessories
Your stand could look a little lifeless and empty without the addition of a few extra items such as a counter or table to display your literature, seating for the comfort of prospective customers and never underestimate the effect good lighting can have on creating the right atmosphere. Set up in the right places these can make or break the whole effectiveness of your display and in the process determine who visits your stand and who doesn't. 
An interesting focal point is also worth thinking about when designing you stand. Allow visitors to sample your products or try something for themselves by providing hands on demos of your product, multi media technology and touch screens. People love to engage in these things and once they've tried they may be impressed enough to buy.
Banners are great marketing tools to use at any trade show or exhibition so if you haven't given them a go yet, don't miss out! Help is on hand to come up with a striking design and to locate them in the right places by calling in the professionals. The Eazy Print team are available for live chats, emails or calls on (02380) 700111 to discuss your next trade show requirements.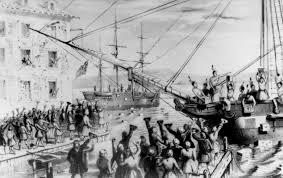 An early trade fair