Are you curious about how to create a visually appealing menu, that really draws in your customers? We believe that an attractive and easy-to-navigate menu will help generate more sales, so it's worth investing in some top menu artwork. Luckily, we've compiled some top tips to help you create the perfect restaurant menu design with our top tips on how to design a restaurant menu…
5 Tips On How To Design A Restaurant Menu
Include images in your restaurant menu design
Our custom menu printing means that you can create any design imaginable! With this in mind, why limit your menu design to text alone? A picture speaks a thousand words, so why not include some graphics in your restaurant menu design?
Consider using a couple of attractively arranged pictures of particularly appealing dishes, to liven up your menu and draw customers in. Choosing popular dishes can increase orders, so perhaps choose expensive, quality dishes to encourages sales.
Alternatively, why not use images to reinforce your branding. Instead of food, why not include a picture of your staff? Is it a family run business? Perhaps it has been around for decades? Why not include a photo from the company's inception? All these images will help define your brand, evoke trust and ultimately result in repeat visitors and more sales!
Have a separate 'specials' section
Keep your menu fresh by including your specials! Include a regular insert in your menu, describing the new specials, whether this be daily, weekly or seasonally.
Not only will this help keep things fresh, but you can choose to use this to amend your restaurant menu design. Instead of needing to reprint your entire menu, this inserts can add festivity to your general design – consider a festive insert for the run up to Christmas, or one decorated with hearts in February. Adding these inserts can really jazz up your restaurant menu design and help keep customers engaged with your menu and products.
Upsell separately
Grab your customers attention and encourage upselling!
Add special sections in your menu for drinks, deserts or sides. Highlight these with a graphic, or different font. This will help generate sales and will keep your menu design interesting!
Pick your paper
We offer a variety of paper stocks for our menus including Economy (130gsm), Budget (170gsm) or Premium (300gsm). Take a look at our options with our flyer and leaflet printing – perfect for flat and folded menus!
You can also choose to print your menu on 100gsm disposable paper, providing menus that are easily recyclable. This is an popular option in the current Covid climate, as it helps to keep your customers and staff safe.
Finally, you can choose to include a gloss or matt laminate on top of your paper, making your menus more durable! We can even add dry-wipe laminate on to your menus; perfect for kids to draw on! (Contact us for a quote for this option.)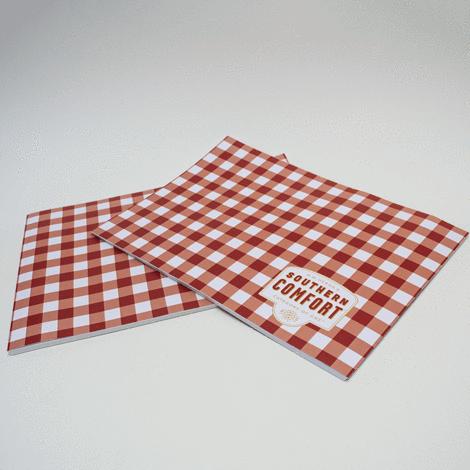 Consider different takeaway menu printing
Our takeaway menu printing service allows you to create any design imaginable and have it printed in vibrant colour! Take advantage of this and create your own takeaway menu – perhaps with coloured coupons or discount images, to really catch the customers eye and bring in more sales.
Nowadays, the takeaway is a more and more popular method of ordering food, so why not capitalise on this with separate takeaway menu printing?
With EazyPrint's restaurant menu printing service, we can create your perfect menu from scratch! Get in touch with our friendly team today and see how we can help your hospitality business.