Here at EazyPrint we understand how important it is to work in a safe and secure environment. Due to Covid 19, the world is changing at an alarming rate, but as businesses we can take steps to ensure that we keep up with guidelines and regulations. Whether your business is open throughout November lockdown, or returning to trading in December, it's more important than ever to keep staff and customers safe.
We have designed a number of different products that can be used to maintain government social distancing recommendations.
How Floor Vinyls Can Keep Your Business Covid Safe
Nowadays, the popularity of floor signs and vinyl floor stickers has skyrocketed. We're sure you've seen them on the floor of supermarkets and shops, reminding customers to wash their hands, stay apart, or demonstrating what a two-meter gap looks like.
Have you considered implementing these handy floor vinyl designs for your business, exhibition or event? They could be used to remind your visitors to maintain government guidelines on masks, hand sanitising or distance (remember – hands, face, space!), or even to act as waiting markers and advertise a product or service whilst they wait!  They could be used to draw attention to a hand sanitising station, or to mark out a one-way system.
Our ProGrip Floor graphics are fade-resistant and anti-slip, so you can ensure your Covid secure floor signs will stay put for as long as you need them. You can use them on any flooring, including concrete, so they can be utilised indoors or outdoors. The floor graphics are made out of vinyl, a durable plastic than can be easily cleaned and disinfected to ensure maximum protection for your visitors.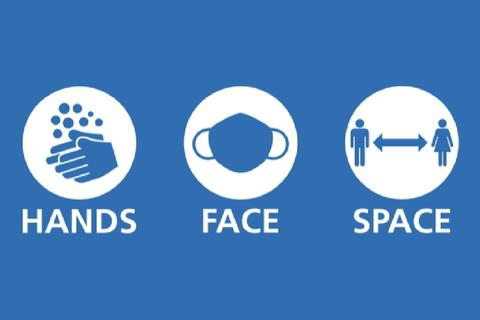 With various sizes ranging up to 1 x 2 meters, whatever your needs, EazyPrint can provide. Get in touch today to find out how we can help make your business, event or exhibition Covid safe, so that when we do return to work, we can do it safely.