Following the Government's announcement for non-essential businesses to reopen, guidelines on how to do this have been well received by many sectors. The focus will be on assisting commercial entities to get up and running again whilst maintaining as safe a workplace as possible. But what does this mean in practical terms for small businesses? How much will existing practices and procedures need to alter if they are to remain 'COVID-19 Secure?' We provide help for businesses reopening after lockdown; read on for more information…
Help For Businesses Reopening After Lockdown
What's the latest?
With the Government's aim to ease the UK out of lockdown there will be a series of re-openings for various businesses, starting with outdoor markets and car showrooms next week. All other non-essential retailers will be permitted to follow suit two weeks later. This is dependent on each business adhering to strict social distancing regimes for employees and customers. Eight key criteria highlighting details of what is expected has been published to guide businesses back to work safely. (Gov.UK)
By the end of July "the Government would like to see the remaining small businesses that have been forced to close, including hairdressers & beauty salons, pubs & hotels and cinemas reopen." (SmallBusiness.co.uk).
What does it mean to be 'COVID-19 Secure?'
This refers to the governmental measures owners can take to ensure their business protects employees and customers. Notices and badges will serve as visible evidence and commitment to the regime, providing reassurance for those involved in the business, as well as bringing their custom.
The measures suggested include:
undertaking a risk assessment and publishing the results along with methods to reduce the risks to an acceptable level
modifying the workspace and break areas to keep the designated 2m distancing between staff and visitors to the business
adapting staff shift patterns to reduce the number of people in contact with one another
reinforcing cleaning processes
facilitating the convenience of frequent handwashing
reducing task times as much as possible where employees interact.
What practical steps can a business take first?
1. Talk to staff
For any change in management and business practices, it is essential to ensure you have your employees onboard. Whilst this needn't be a free-for-all debate about how things will operate, you can gain a great deal of support by firstly explaining the facts and how the changes will come about logistically. Allow time after the video conferencing discussion for questions and further clarification. Reference should be made to governmental guidelines as the authority for these changes, along with the need to care for the wellbeing of staff and customers.
As far as employees are concerned, they will be impacted in how they carry out their assigned roles and where they undertake these. For example: face to face desk layouts will be replaced with side by side or back to back seating if the 2m distancing between individuals is not possible. Additionally shared spaces will have barriers installed and fixed team shift patterns will be created to minimise the number of people in contact with one another.
2. Risk assessment for CIVID-19
Every business is different so each must assess, evaluate and record the additional hazard that COVID-19 introduces into the workplace and steps required to control these risks. Once the risk assessment is completed this should be posted on the website for all staff and customers to be aware of.
Management staff, as well as other employees, need to adhere to these procedures following through with any necessary actions as required. It should also be reviewed and kept up to date regularly.
3. Redesign the workspace/shop floor
Queue management is needed to ensure the number of people gathering in a small space is kept to a minimum. This might mean customers are kept outside the premises and only allowed to enter when the optimum number is reached. Or staff may have to meet their assigned group in a particular room at various times rotated with each shift. Signs would be needed to give information, direct people and remind them to keep the required distance at all times.
One way flow entry and exit points should be clearly identified through signage to regulate control at these access points. This single directional movement needs to be maintained throughout the building or around the shop floor.
Additional signage and position indicators are required to facilitate safe distancing for employees during meetings and breaks. They are also necessary for customers handling merchandise, queuing for collection and returns and at sales points.
4. Reinforcing cleaning processes
Handwashing facilities for employees should be set up at entry and exit points and communal areas and computers, telephones, furniture and surfaces cleaned more frequently.
Customers should also have access to handwashing and be provided with cleaning equipment for baskets and trolleys. If there are WC's on site these should be cleaned frequently.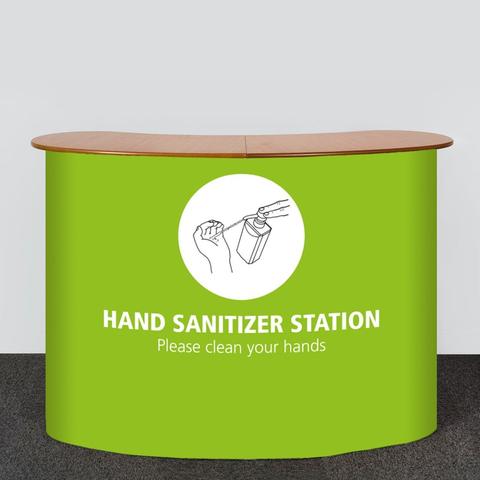 Eazy Print can help with social distancing signage
If you're looking for an affordable and convenient way to signpost your business and keep your employees and customers informed and safe, then take a look at the following suggestions:
Roller banner stands  in various sizes and finishes to suit the smallest budget and fit any space. Simple to put together with your choice of design, the finished roller banner can be delivered to your door within 48 hours and even less if urgent! These retractable display banners are invaluable when it comes to keeping urgent information to the fore.
Many businesses have made use of these to keep employees alert to social distancing measures and to maintain strict hygiene in the workplace. They can also be used to reassure the public that your company is committed to keeping them safe in applying government guidance on the premises. 
Just email your chosen wording and design to the studio and they will create your very own professional banner to stand at an access point or prominent location on your premises.
Posters are available in a wide choice of sizes from A4 to A0 and 30 x 40 or 40 x 60 " with an option to laminate them if they are to be displayed long-term. They are printed in full colour on high quality stock paper and are suitable for indoor and outdoor use. This makes them a simple option for pinning on outside walls to indicate where customers need to wait for entry or where employees need to queue for staff meetings. 
Flyers and Leaflets when laminated are great for the little reminders to wash hands frequently, keep personal equipment clean, or to keep the 2m distance when working. They come in A4, A5 or A6 sizes so can be pinned to walls, hung overhead or attached to stands catching the attention of those passing through. 
Strut Cards are nifty little display cards ideal for messages at POS or reception desks. Printed on 2mm thick cardboard and stabilised by a small rudder strut this display will not fade, or crinkle, nor curl at the edges. Choose your own design or message and the quantity you need for delivery in a couple of days. 
A Board Pavement signs  help with queue management outside your store or building. They can also be used to advise visitors where to stand in a large reception whilst waiting for a sales advisor. They come with two posters for a double sided display and the details or messages can be changed as often as you need. Available the next working day after submission of your design.
If there is anything you need with regard to your business printing requirements Eazy Print is ready to take your call, email or online chat!