Have you ever been stung by a big bill, perhaps from a private dentist, electrician, plumber or other service? You may have noticed the financial blow was considerably softened by the inclusion of the humble compliment slip! Perhaps you've ordered something and when it came it included a pleasant thank you note, signed by the company owner themselves! How did that make you feel as a customer? We're betting that the inclusion really helped to make you feel valued, so let's take a look at how the compliment slip can help your business in our guide to using compliment slips…
A guide to using compliment slips : What is a compliment slip?
A compliment slip is a small, sleek piece of paper, included with bills or orders. Custom compliment slip printing means that you can include any design that you like! Slips are normally branded with your company logo and has a handwritten message on it – thanking the customer for their order, or just with a signature. These small slips can go a long way in making the customer feel valued… and a valued customer is a repeat customer!
Why use compliment slips?
·         A touch of the personal goes a long way
Compliment slips are utilised to add a touch of the personal to your orders; customers enjoy receiving a thank you note (especially with a hand-written message or signature). Not only does it help reinforce your brand awareness, it also promotes trust and affability, making it more likely that your customers will use your company again!
·         Offset the digitised experience
With more and more businesses gaining larger digital presences, the gesture of a hand-written compliment slip is even more impactful; adding that personal touch can do wonders for your customer satisfaction.
·         Keep it professional
Adding a compliment slip to a bill or an order adds a real sense of professionalism. It shows the customer that you are invested in your company and its customers. Using a sleek, elegant design adds a touch of class and luxury to what otherwise might be a mundane occurrence. And in the case of a bill, it reminds customers that you are grateful for their custom, encouraging them to pay on time!
·         Making you memorable
Including compliment slips isn't something every business thinks to do, so it'll make you memorable in the minds of your customers. When they're looking for a similar service or product in the future, they'll be sure to remember you! Being memorable means more future sales!
·         Reinforce your brand
Custom compliment slip printing gives you another opportunity to reinforce your branding, helping your business to remain at the forefront of your customer's mind! Designing a compliment slip with a bold logo and complementary colours can consolidate your branding with your customer, making your company a household name! You can also choose to design your letterheads, notebooks and business stationery in the same way, further consolidating your brand image.
How to design the perfect compliment slip?
·         What size is a compliment slip?
The most popular size for a compliment slip is 1/3 A4 – we'd recommend sticking with this, as it is the most commonly recognised! It's best to keep it small and snappy – after all, you don't want to bore your customers with a lengthy letter! Having a smaller sized compliment slip means it's easy to insert into other documents, and will happily fit into a standard 1/3 A4 envelope.
·         Include your branding
Very important! Make sure to include your logo prominently on your compliment slips. If using colour, ensure your slip matches with and complements your logo: don't draw attention away from your branding! If you have a tagline for your company, it's always a nice touch to include that as a header or footer, reminding your customers of your brand identity and ethos.
·         Contact details
Don't forget to include your contact details! You want to make it as easy as possible for your customers to get in touch – include your phone number, contact email, website and any social media handles for maximum communication!
·         Pick your paper
We tend to print our compliment slips on high quality 100gsm or 120gsm bond paper, for a professional, clean look. However, if you want to really wow your customers, why not consider a thicker paper, or a different stock entirely! Get in touch with our friendly team today to discuss your options!
·         Single or double sided?
Finally, it's worth deciding if you fancy single or double sided printing on your compliment slips. Adding double sided printing gives you more space for your contact details, and also adds a sense of extra professionalism; you're really investing in your business!
·         Outsource the design
If designing artwork isn't your thing, why not let us take the task off your hands? We offer a variety of graphic design packages; our on-site team of designers would be happy to help create your perfect compliment slip design!
·         What to write on a compliment slip?
The final question! What to write on a printed compliment slip? When it comes to how to write a compliment slip, there's no real right answer. We'd recommend using the space to write a thank you message, sign your name or provide a call to action (like: please check out our website!). You can also choose to use the space to provide a personal discount coupon for future purchases!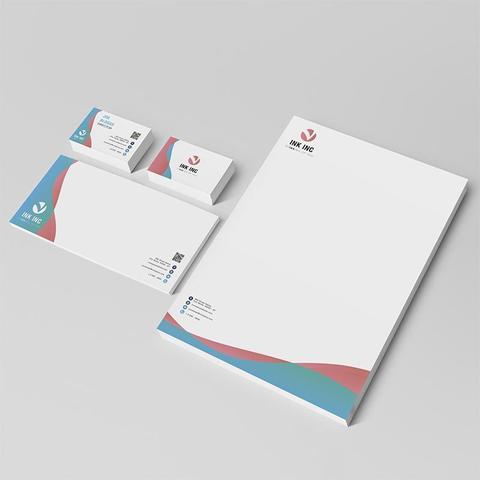 We hope you found our guide to compliment slips helpful! We provide compliment slip printing services, but also offer a range of other complementary office products, including letterheads, notebooks, NCR pads and stationery bundles! Should you have any questions, don't hesitate to get in touch with our friendly team today.