It is often said that pop up banners are an advertising must for a business of any size. There is certainly a lot of positive talk about these uncostly, highly effective visual displays. And they are apparently quick and easy to put together too. So could it be that any discerning business who has not yet sampled the benefits of using the pop up banner might be missing out? Why are these marketing tools so successful and are they beneficial for everyone? Simply put: are pop up banners as good as everyone says?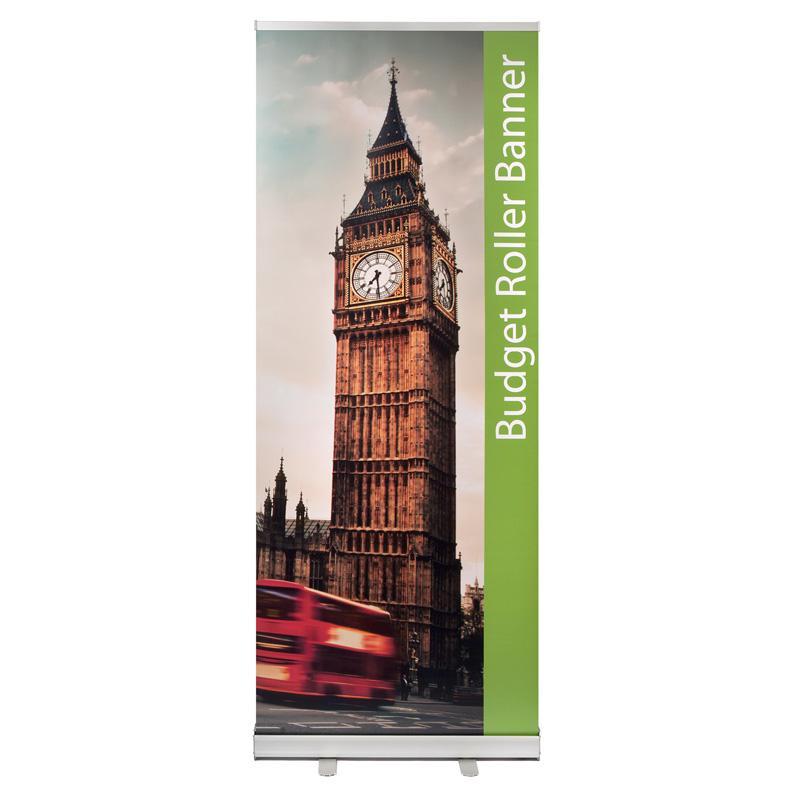 What Are Pop Up Banners?
'Pop up banners' is a generic term used to refer to any type of portable display stand containing an instantly usable graphic sheet that can be rolled or folded away. This graphic sheet displays to passing public an advertising message, information or instructions.
Pop up banners are available in any shape or size although most regularly come in rectangular form to a height above eye level. Highly visible and eye catching, they are easily spotted, quickly read and understood by onlookers, thus fulfilling the marketing need of conveying a message.
Not only are pop up banners pretty to look at, useful in effecting communication and easy to use, but they are also simple to design and print, convenient to move around and best of all, relatively low cost.
How Much Do Pop Up Banners Cost?
There's a huge range of pop up banners on the market, all of differing sizes, quality and style. Some have interchangeable graphics, others link up to make a wall and others can be used as outdoor displays. Obviously the purpose to which they are put will determine the price. 
An item is only viewed as expensive if it is not put to regular use so as to get 'your money's worth.' One thing about a quality pop up banner is it is recyclable or reusable time after time. The graphics and images are printed on durable vinyl or polyester-based material which is not only pliable and waterproof but also has light-reflective properties contributing to the excellent print clarity and finish. This means the graphic panel will stand the test of time if it needs to. It won't crack, crease or tear and the colour won't fade with regular use. Of course, if you choose to change the graphic this can be done quickly and easily for a nominal fee. 
In terms of advertising costs, the initial outlay for a pop-up banner is modest when compared to other types of media such as billboard advertising, online and TV. Weighing the cost up with the product's versatility, effectiveness and longevity, it's easy to see why many businesses invest in them.
Another feature contributing to the success of the pop up banner is its simplicity; it's easy to use, to put together and to transport.
How Easy Is A Pop Up Banner To Use?
The most simple to use pop up banners are those that roll up into a metal base. Often called roller banners, these displays can be set up by one person in a few seconds. If you can pull down a roller blind, you can pull up a roller banner! Just pull on the metal bar on the top of the base and the graphic will slowly unroll before your very eyes.
Once it is fully extended to head height just hook on a stabilising pole which plugs into the base to make it more sturdy! Simple! See how easy it is to pop up a pop-up banner with step by step instructions and a video demonstration. 
How Do You Create A Pop Up Banner?
If you want to do this the easy way there are many online design studios that can come up with an attractive and effective display for your pop up banner. Some studios specialise in pop up banners and can offer a design and print service for a very reasonable price. Eazy Print produces, amongst other items, roller banners and pop up banners pretty much all day, every day and have a good reputation when it comes to printing and designing professional-looking graphics. 
Or if you are artistically minded you could have a go at creating your own design by using online templates or free graphic design websites such as Canva or Photoshop.
How Quickly Can You Order A Pop Up Banner Online?
The Standard turnaround time for pop up banners ordered from Eazy Print is 48 hours. This means that once a product is ordered online, payment is received and artwork is submitted, the package will arrive two days later. If the design is being handled by the studio then more time would be needed. 
However, if an order is urgent and required the next day then a 24 hour Express Service is available online. If the product is required in an even shorter amount of time, a call put into the studio would enable the Eazy Print team to do their best to get the item to the recipient as soon as possible. 
Are Pop Up Banners Convenient To Transport?
One of the most redeeming features of the pop up banner is its portability. As it rolls into a lightweight, streamlined base making it easy to lift,  the whole display can fit into a narrow carry case with handles making it easy to carry too. These cases are as hard-wearing and well made as the pop up banners themselves which ensures the product will remain undamaged during transit or whilst being stored.
All things considered then, the Pop Up Banner truly offers a great deal for any business wanting to keep in touch with their customers in an effective yet simple way – and with little expense. If you haven't ordered your Pop Up Banner yet, why not order today? This is something you don't want to miss out on!!
So. Are Pop Up Banners As Good As Everyone Says?
We think so yes! And if we haven't convinced you, don't hesitate to get in touch with our friendly team today!