More commonly associated with Germany, these open air street markets with a difference have become increasingly popular in the UK over recent years. According to a local Government Association report, visitor numbers to key seasonal markets are on the increase year on year. But how effective are these markets in promoting a small business locally? How can you attract as many visitors as possible to your stand?
What is a Christmas Market?
According to Wikipedia these are "street markets associated with the celebration of Christmas during the four weeks of Advent." They are traditionally held in the squares of many towns in Germany, Switzerland and Austria, but in recent years have caught on in a variety of locations across Europe and North America. Chalet-like stalls are lined up in the street, brightly decorated and illuminated for evening visitors to sample local foods, traditional seasonal delicacies and artisan products. The larger markets also include other attractions such as fairground rides, Big Wheels and ice rinks to enhance visitor experience. 
What is the history of Christmas Markets?
The forerunner of the Christmas Market is thought to be the December Market held in Vienna in the middle Ages (1292) which originally only sold meat and everyday purchases.
The first "Christkindlmarkt" focusing on seasonal treats, decorations and crafts was recorded in 1384. As they grew in popularity, adopting a festival and gift giving approach, the churches encouraged the markets to be held nearby in the hope of increasing their congregations but instead ended up competing with them for attendees. The festive market really took off in popularity when gift giving became an annual event.
Where are the best Christmas Markets held?
Some of the most spectacular markets take place every year in their old stomping ground within the squares of Europe's principal cities.
 Strasbourg, France

 Vienna, Austria
 Prague, Czech Republic
 Florence, Italy
 Krakow, Poland
 Berlin, Germany
 Budapest, Hungary
 Brussels, Belgium
They have also sprung up in more far flung places such as Toronto & Montreal in Canada and New York & Washington in the States.
Less traditional locations have also been adopted for the purpose of holding a Christmas market such as Mount Pilatus in Switzerland, the highest market held at 2,132m above sea level. The largest seasonal market is Vienna 'Christkindlmarkt' which boasts over 200 individual chalets offering a vast array of specialist produce and locally crafted gifts. 
What about UK Christmas Markets?
Ever since Lincoln brought the first traditional Christmas Market to the UK in 1982, the list of cities organising their own style of market continues to grow each year, opening up the choice for businesses and visitors alike. Some UK Festive Markets headlined for the 2019 season and their opening dates are listed below:
 Bath – 28th November to 15th December
 Birmingham – 15th November to 23rd December
 Glasgow – 9th November to 23rd December
 Leeds – 8th November to 22nd December
 Manchester – 9th November to 22nd December
 London – 21st November to 5th January
 Newcastle – 16th November to 14th December
 Oxford – 5th December to 21st December
 Southampton – 15th November to 23rd December
 Winchester – 21st November to 22nd December
 Exeter – 16th November to 19th December
What makes a good Christmas Market?
Much of the appeal of these markets stems from their traditional nature, including the historic buildings which provide the backdrop, the retro style of goods, gifts and gadgets on offer and the unconventional nature of produce from days gone by. Some visitors are drawn to purchase high quality, unusual gifts that feature at the markets and others visit to drink in the atmosphere created by the external location, pungent spices and the twinkling illuminations.  
Whatever the markets offer in the way of incentives they certainly draw in the crowds, which is another contributing factor to the ambience of these special events. In order to benefit from such abundant custom, businesses choosing to take part in their local festive market need to pull out all the stops creating an eye-catching stall to appeal to the interest of those passing by.
How are Christmas Markets good for businesses?
If you plan to take part in a local Christmas market do not hesitate in registering your interest as soon as possible, as these events are viewed as lucrative opportunities in the commercial calendar, with two key benefits:
 To increase brand awareness in the local or extended area
 To sell extra products
The number of Christmas Markets in the UK has trebled since 2007 generating over £500m in the UK economy in 2017. A government report confirms that visitor numbers are set to increase and have done so across the board with estimations of between 5 – 90% at established locations. Interestingly the numbers of 'out of town' visitors also appears to be on the increase, which provides additional opportunities for participants to really maximise on profits by getting products in front of new customers. 
Significantly, Christmas Markets continue to attract a wider demographic market than normal street markets operating regularly throughout the year, showing that they are viewed as something different and more of a leisure experience than a shopping expedition.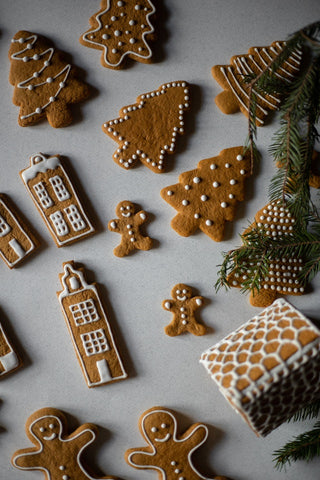 How can you prepare your business for a Christmas Market?
Commercially the Christmas period is all about making sales in a relatively short lived window of opportunity and participating at the local market may well offer a brief extension to that period.
However, this is the one time in the year when businesses can be sure their customers are looking to make purchases there and then. So, in preparation for a bonanza sales spree consider the following suggestions to set up an attractive showcase of your products and draw in seasonal shoppers, out of town visitors,  and locals:
 Consider which products you want to sell to customers? What are they likely to buy from you? Would particular items make good seasonal gifts? Do you have a luxury range of food products? Is it a good opportunity to market a new product? Or revamp an old one with festive packaging?
 Use good quality visuals clearly announcing who you are, what you are selling and displaying special offers or what makes you unique. Roller banners are inexpensive and easy to put together in a very short space of time. The outdoor banners are durable, weatherproof and stable. Choose single sided displays to offset the stand or double-sided so they can stand alone and be read from each direction. Mini desk top displays are useful for listing food items and prices. For larger prominent displays able to withstand extreme weather conditions try the mesh PVC banners which allow wind to blow through and the rain to run off, delivering clear and vibrant graphics throughout the market period. Blade feather flags set your chalet off and draw attention to your wares, making your stand easily identifiable.
 Have a supply of business cards or leaflets to hand for those who are happy to just browse, as the chances are they may buy your products online afterwards. 
 Organise social media based competitions in the time leading up to the market to make customers aware of your presence.
 Offer special discounts and promotions to encourage multiple purchases and clearly advertise these using colourful PVC displays or pavement signs located next to your booth. 
 Interact with the crowd by calling them over, smiling or being friendly. Tell them all about your products, which ones sell best and why, or highlight one item you feel is suitable for a particular customer. 
Eazy Print graphic displays, promotional literature and marketing accessories are just a click away to cater for all your Christmas Market requirements. Browse the product portfolio or call (02380) 700 111 for help with putting together an outstanding, crowd-stopping festive display.