It's a great idea to design your own booklet, provided you have the time, patience and inclination. You know exactly how you want it to look: the theme, the colours, the layout. In your mind's eye you can see how it will affect the reader; whether it's to attract the attention of a specific customer group or to show individuals how to get the best use out of your product. You know that it's imperative to get the booklet design right and to give the right impression or convey the right message.
But there's one small issue. You have never created your own booklet before. And yet you know you could with a nudge in the right direction to get you started. Well here's your nudge. Read on to gain for a non-designers guide to creating your own booklet!
Why design a booklet?
Let's be clear here from the outset that we are not talking about your full blown hardbacked novel type book. A booklet also imparts information but comes in a less pervasive format of 4 to 48 pages of no less than 130gsm paper and a 300gsm paper cover. They are smaller in size and are useful for speed reading, or extracting the information you need and they tend to be subject specific.
Booklets come in many guises depending on the use or commercial setting, and are also referred to as brochures, prospectus or catalogues. They have several purposes:
 To introduce a business sector, company, new product or service
 To build awareness for a product or service offering a detailed explanation and eliminating any misconceptions or objections through persuasive content
 To personally connect with an individual or customer group to rouse interest or motivate to buy or try
What are the benefits of designing a booklet?
Creating a booklet is cost effective when looking at the time and effort required to produce them in relation to the expense involved.
 A large amount of information can be included into a small space
 They are visually pleasing and often catch the eye of interested parties
 Since they are a tangible source of information they appeal to individuals who are less technologically minded
 They can be used to target specific groups
 Recipients can read them without distraction from advertisements and pop ups
 Viewed as a quality paper product they are retained by the recipient and often referred to at a later date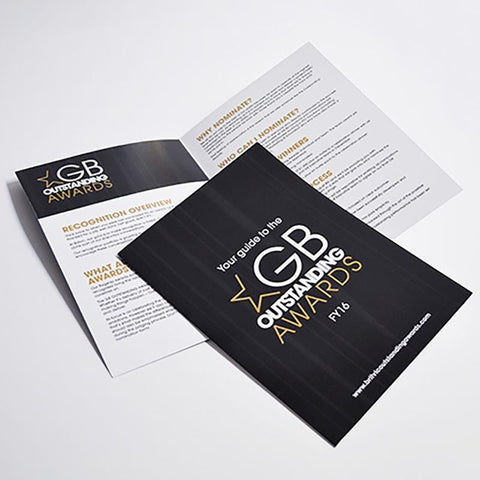 What to think about when designing a booklet
First of all its really important to be clear about who exactly your booklet is for. Are you trying to appeal to a specific type of person that you feel will be interested in your business? For example if you supply a range of cosmetics and want to attract younger females? Or if you are offering a new type of window cleaning service for house owners locally? Think about who that person is and how you can help your potential customer to relate to your product or service enough to try it. Also think about how you would like these people to contact you if they are interested? And how they might obtain a copy of your booklet or brochure? Is it likely to be via direct mail or will you just keep a pile of them available for anyone visiting your offices or premises?
Next you need to consider how the booklet will look. Will it be a less costly 'pamphlet' type containing a little extra information than a leaflet could offer? Or do you want to create the image of luxury or quality for high end of the market purchasers? How big will the booklet be? A4 is bigger, creating a greater impact and an impression of importance and the need to be kept. Or the smaller A5 size which is more of an instruction booklet which can be thrown away after use? The choice is up to you based on what you are wanting to achieve from your print advertising.
Something else to think about are the key points you want to get across to your reader. How will you ensure these stand out so they get the message and can make an informed choice about your business or product.
What should you include in you booklet design?
Images – should always be high quality, appropriate, relevant, eye-catching and compelling. There are free online image libraries such as Shutterstock or Unsplash offering some striking and unique images that conjure up associated thoughts in the minds of the reader. Use a search word related to your booklet subject and the site will come up with an array of associated pictures to choose from. You can also use the Google image selector tool to look up pictures with  permission to reuse.
Text – is kept to a minimum but every word counts and is relevant to the context. A standout heading or clever strapline can be used as a title with subheadings throughout to order the information in a logical and understandable way. Make sure that the key points are made to stand out from the main body of the text.
Fonts – must be chosen because they are clear and easy to read. Select only two different types of font to keep the text uncluttered and tidy looking. A larger, bolder more fancy font for the headline and a smaller, more uniform and readable font for the text body.
Colours – should be chosen according to the finish you wish to achieve. Bright, funky colours imply something fun, modern or young at heart, whereas more subtle colours of pastel shades generate a feeling of calm, in touch with nature or refreshment. Not only do the shades chosen for your booklet need to be connected with the subject matter but they should appeal to the eyes to draw the right people in. So beware of clashing colours or shades they do not complement each other.
Contact details- need to be included for obvious reasons. Putting an employee or  company name to a product or business will add credibility to your printed booklet and an email address and telephone number will make it easier for a potential customer to make contact.
Charts and tables – can be included to convey information more clearly if appropriate.
How to design online
Templates are really helpful in guiding you through the booklet design process. You can choose the cover design you feel fits your purpose along with the layout, colour and style you prefer for the rest of the booklet. All you have to do is come up with a great title and add your text in the appropriate boxes. Select a few well chosen images that illustrate a key point you are making in the text and don't forget to include a call to action to encourage your reader to take the plunge, by adding your name, telephone number and email address for contact. Voila! You have your personally customised booklet ready for printing.
There's a substantial choice of free online brochure templates that non-professionals will find straightforward to use, some are listed below:
 Canva Brochure Maker boasts a library of over 1,000 different templates and 2 million stock images to select from. Enter your specific brochure type in the search window and a series of suitable layouts appear for you to choose from. They also offer to print and deliver your run of customised booklets.
 Lucidpress promises professional templates, easy import and high quality design elements to use in minutes for your booklet design.
Adobe Express has a free design tool to create your own custom made booklets and other items in minutes, even if you have no design skills!
Desk top publishing software generate page layouts and produce typographic quality text and images comparable to traditional typography and printing. These programmes give you absolute freedom to design and create without the restriction of set formats. Some of the more user friendly DTPs are even suitable for beginners or non designers.
 Adobe Indesign refers to itself as "a page design software and layout app that lets you create, preflight and publish beautiful documents for print and digital media." This is an extensive software made for designing printed projects and can take time to learn. But the steep learning curve can be aided by the numerous tutorials available online.
 Microsoft Word, a programme the majority subscribe to has the facility to create booklets from templates and from scratch.
Leave it to the professionals?
If all of this seems a little too much for you or you really need your booklet to 'look the business', you still have another option to consider – recruit in the professional designer who works at this sort of thing 24/7. They will listen to your brief, advise where appropriate and come up with something beautiful and inspiring in a matter of days. Eazy Print has seasoned expertise in the realms of print and design and would be only too happy to help put together your booklet. Speak to a team member on 02380 700111 or chat online.