You may well encounter various products that can be die-cut to a custom shape. But what does that mean? And more importantly, how can it help you create the perfect printed product? Read on to learn all about die cutting…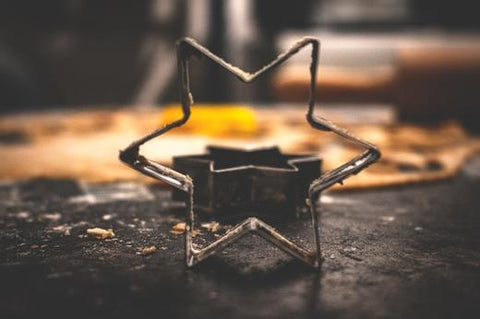 All about die cutting: a definition
Die-cutting is a print finishing technique whereby a product is cut to a particular custom shape, using specially-made dies. A die is a metal cutter that has been formed to a specific shape. Think of dies like large cookie cutters!
This means that if you can create the die – you can create a product in that shape, via die-cutting.
Why is die-cutting beneficial?
Die-cutting allows you to create your desired shape in one fell swoop, without the time consuming need for a digital cutter to wind its way around all the curves and corners. Once you have created your die, you can use it over and over again, allowing you to create hundreds of identical, custom-shaped products.
The main benefit of die-cutting is that you can create custom shapes that are entirely unique to you and your brand.
Which materials can be die-cut?
Due to the nature of the 'punch-out' style of cutting, die-cutting works best on low strength materials like paper and card stocks. The minimum paper weight to die cut is approximately 170gsm (140 micron) and the maximum paper weight is 500gsm (600 micron).
It does not work well for leather or metal, which require more strength to cut out. A similar technique, known as 'clinking' works well for these tougher materials. Correx and Foamex is digitally cut to shape.
What shape should I create via die-cutting?
That's entirely up to you! However, if you're looking for some inspiration for your custom shape we'd recommend you investigate the following:
Your logo.

Nothing will reinforce your branding like a custom printed product in the shape of your logo. This is especially pertinent if your logo has a different or unique design.

Your most well-known product.

Similarly, creating a die-cut product in the shape of your best-known and most well-loved product will help to reinforce your branding and will certainly catch the attention of potential customers.

Something seasonal

. Get ahead of the competition by creating die-cut products in seasonal shapes – hearts for Valentine's, snowflakes for Christmas, eggs for Easter etc.
Please note- it is not possible to die cut very complex or detailed shapes, as die cutters cannot be created for very small or intricate designs.
We hope you enjoyed learning all about die cutting. If you'd like a particular product in a custom shape, just get in touch with our friendly team of experts today. They'd be delighted to help you!